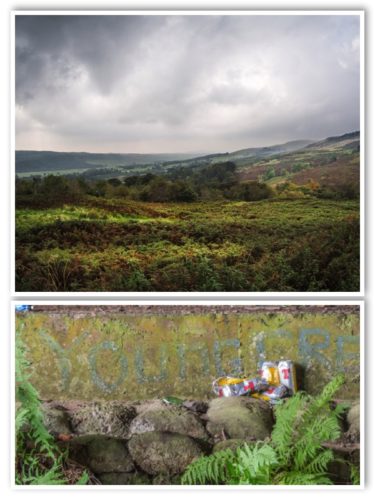 First job today was to clean out the car. Yesterday, the outside. Today the inside.
I used three poly bags and the KFC method again:
K = Keep – goes out and comes back in
F = File – goes somewhere else
C = Chuck – it goes in the bin
Most stuff went into the K or C bags with a few things finding their way back into the house again to be checked over before going through the KFC cycle again sometime later. It didn't take as long as I anticipated and then it was time for lunch.
Scamp suggested going to the gallery at Clachan of Campsie. I wasn't so sure, because the last time we went there the place was ruled by a rather superior lady who was definitely doing us a favour by allowing us into her cafe and also allowing us to pay for our meal. I needn't have worried. The place was under new management and my soup and a sandwich were very, very good. The chicken soup was quite thick, warming and although a bit tasteless to start with, benefitted greatly from a pinch of salt. The sandwich. Hmm. Who in their right mind would combine chunks of Brie with thin slices of apple and a drizzle of honey, yes honey then wrap them in slices of unbuttered brown bread? Absolute genius. In my mind it ranks with Beetroot and Cheese toasties and Cheese and Marmalade pieces (sandwiches to you if you're english). Such a brilliant flavour combination. I'm going to make it for my lunch some time this week. Scamp doesn't like honey and as it's the hook the whole thing hangs on, she doesn't get any. Scamp had lentil soup, poor soul. She missed the flavour bomb!
The down side of the Gallery was the gallery itself. The paintings were awful. Twee wee landscapes that I've grown out of and uninspired, dull landscapes in big frames. That's not photography, that's taking bad foties. However, the food was good and the service was with a smile. Oh yes, and we had a cake between us. A Vienna Sponge that tasted great. We will be back DV. Oh, by the way JIC, Wheelcraft is still there and still doing a roaring trade.
Drove up the Crow Road to the big carpark with the panoramic views around East Dunbartonshire. (There is that anomaly again. Dumbarton is the county town of Dunbartonshire. Why is it spelled differently then?) That's where the landscape shot came from. Ok that's where the landscape shot originated from before I painted in some sunny patches and darkened the sky , oh and … You get the idea, don't you. It may be fake, but it's better in my opinion than the insipid offerings in the Gallery.
Came home and Scamp wanted to make the most of the watery sunshine and almost two dry days, so she went to cut the grass. I took my camera down the Luggie with me to try to get a better shot a scene I'd seen yesterday. The light wasn't as good as yesterday, but I was better prepared and at least one of the shots turned out like I wanted. The the beer can 'installation' is PoD, in case you hadn't guessed.
Watched part of the Invictus Games tonight and Scott Meenagh was being interviewed after coming second in a race.  He used to go the Cumby High.  He was a bit of a pain until he discovered drama.  When he left school he joined the army and lost both legs when his Landrover hit an IED.   He became quite a celebrity at school and rightly so.  Someone for all the kids to look up to, but a warning to them at the same time.  It was good to see him making a name for himself, and a new life for himself too.
Don't have any plans yet for tomorrow. It might involve swimming or the gym to keep my excitement in check and Salsa at night.