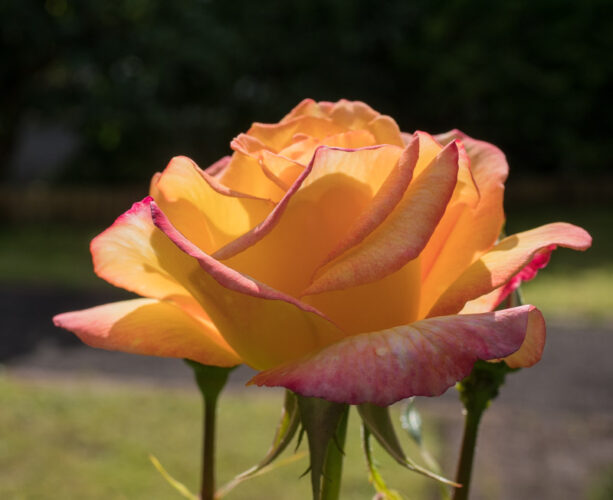 Once more into The Fort, dear friend, once more.
Despite spending a fair amount on a new full paint box, I still needed more paint. Two of my half pans were empty in my old box. One was Cerulean Blue, a sky blue. I got one in the new box. The other empty pan had held Hooker's Green Named after an English botanist and illustrator William J Hooker, not for any other reason. Not that I would know about such things, you understand. The new paintbox didn't have Mr Hooker's green and the reason the half pan is empty is because I use it a lot. Today I intended to go to The Fort to get a tube. It's not essential as a colour, because you can mix a fair representation of it using a couple of colours with a third to adjust the intensity, but to have one to hand would be good. Scamp decided she'd come along. She'd spent the morning browsing B&Q looking at lawnmowers. We'd had a discussion and she agreed that the old mower probably needed to be replaced for H&S reasons and she's still speaking to me!
I got the paint, £5 for a 5ml tube. Multiply £5 by the 18 colours in the new box and you see how much it costs to paint some watercolours. Of course I didn't pay that for the paintbox. Also, paints come in four price bands. My HG was in band 1 the lowest price. Some are much more expensive, just under £10 for the most expensive (and most poisonous!) paint in the price bands. Still I was happy to pay to be able to mix some good dark greens.
Meanwhile Scamp was off window shopping. She came back empty handed but smiling because she'd been out in the sunshine and seen some pretty dresses. Unfortunately there was no point in buying any because there's nowhere to wear them to. I think we are now coming down from the high of dancing – virtually – with other people for an hour and a half on Saturday. Now we are realising that it may be some time before we will dance with people again. We were supposed to be trying out dancing in the open air on Wednesday with our dance class, led by the teacher, but we've since heard that has been veto'd. Presumably, the dance board wouldn't allow it on H&S grounds or their insurance wouldn't cover it. Such a pity. It would have been interesting.
Grabbed a shot of one of Scamp's favourite roses,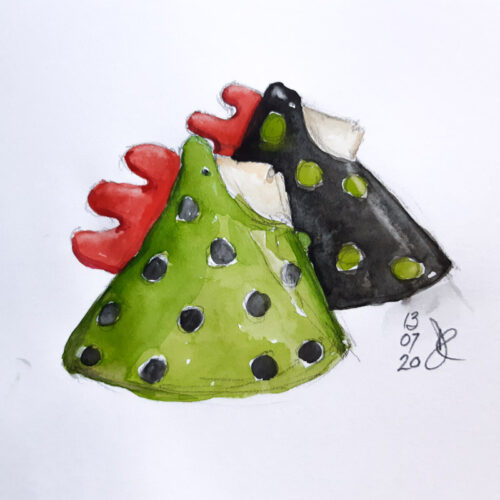 Sheila's Perfume. It looked stunning back lit in the garden this morning. That made PoD. I'd actually completed a painting for Lockdown Library yesterday, but didn't think it was good enough. Today I had a second look and it's fine. It has been posted on Instagram. Today's painting is of the two wee chickens that make up our cruet set. I've done them before, but that was a while ago and I don't mind painting them again. They always make us smile.
Not much more to add today. Doing a Zoom meeting tomorrow with the man from Falkirk. Hopefully it will go well.