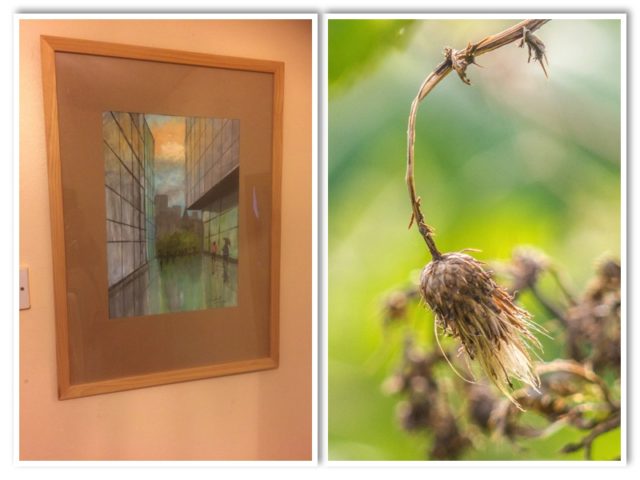 "So do you think I'll need another shirt to change into?" Question before leaving for John Carrigan and Natacha's 110th Birthday Bash. "No" came the answer. By 11.30pm my shirt was sodden and Scamps dress was sticking to her. Wish I'd brought that other shirt now!
As you will have guessed today was the combined birthday party. Not a lot of Salsa or Ceilidh dancing, but a lot of Jive and Rock 'n' Roll. I think I could handle jive, but I'm sure Scamp thinks I'd start dancing 'jalsa' which is half salsa, half jive. Well, it isn't yet, but it would be. I already drive her crazy by inventing moves on the spot. How much more complicated would it be if we added in Jive? Anyway, we may give it a try!
Earlier in the day I framed the big A2 painting based on a London skyline and it's hanging at the top of the stairs. Looking good too. It's in an old IKEA frame that was just the right size and the mat is not real matting board, but a piece of cardboard Fred gave me ages ago. I think it sits well in the frame.
I went out to get some photos but the Luggie wasn't looking very photogenic until I noticed the time and had to hurry home to get ready to go out. Then the sun came out and I got a couple of shots. This one looks good, but it could have been so much better if the light had been better earlier. That said, it's a place marker and the 365 needed a photo, this was it.
I started writing this at 10.35pm while Scamp was dancing the Slosh or some other mindless line dance, and it's now twelve fifty ish and it's time for me to go to sleepy bye byes.
Nighty night readers.