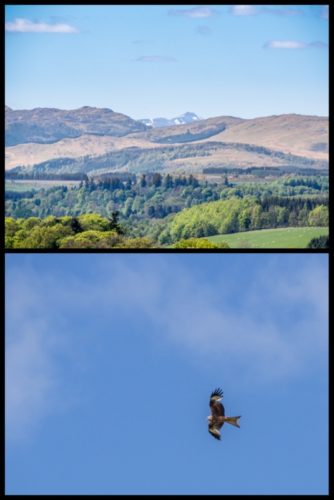 We were going to Moira's party today, but Scamp suggested we go to Vecchia Bologna for lunch first.  After that, we still had some time to kill so we went to the David Stirling monument just outside Doune because there is such a good view of the Perthshire hills from there and I expected it to look good in the sun.  David Stirling was the founder of the SAS.  I took a few photos.  Usually with landscape the wide-angle lens is the best option, but for a change I used the zoom to frame the shot with some of the mid-ground trees and make more of that snow dusted peak in the background.  After comparing the two shots, I think the longer lens was the better shot of the two.  I did a bit of adjustment brush work to remove the blue cast from the hills, but left it on the distant peak to give a better impression of distance.
From there we drove to Ardgay to see if I could get a few shots of the Red Kites.  Unfortunately, we were just to late to see them feeding.  Next time we'll go earlier and make sure we get the best view.  I did get a couple of shots, but the Panasonic lens isn't quite up to this kind of photography.  Next time I'll pack the Nikon and the Tamron.  For all its faults, it focuses faster and locks the VR solidly before you trip the shutter.  Next time!
Then it was off to Moira's garden party.  It was indeed a garden party with all the trimmings.  Entertainment, food, drink.  Just good clean fun.  I hadn't been looking forward to it, because I still don't do parties – never have been a people person, but I did have a good time.  I was so pleased that the weather held up for her and Jim.