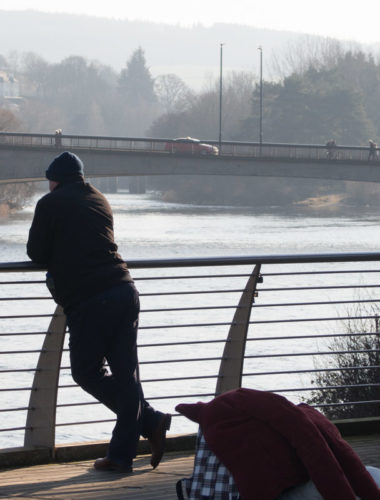 My coffee mountain was being eroded and in need of replenishment.
It was a lovely morning. Blue sky and just a few thin white clouds. A perfect day to travel up to Perf for some coffee beans and some loose tea. A long way to go for coffee you say when you could just drive up to Tesco. Hmm. Does Tesco offer Cuba Turaquino? Or Honduras? Or real Columbian? Does Tesco sell loose Assam Long Leaf tea? Hmm. I didn't think so. I could have ordered online, but the Cuban is the problem. The Bean Shop uses PayPal for online purchasing and PayPal being american can't be used for purchases from Cuba. Obama was heading in the right direction and it looked as if he was going to remove the blockade from dealing with Cuba. The blond combover president stopped that and the upshot for me is that I can't buy my Cuban coffee from The Bean Shop in Perf online. I can buy it perfectly legally and without problem over the counter, so that's why we were travelling up the M9 to Perf today. Well, that and the fact that it was a lovely spring-like day for a run.
Got there and after a Nero coffee to refresh us we went for a walk to 'The Ship'. The bit of the pavement that overhangs the Tay and always reminds us of being on a cruise. There were loads of folk there today. I managed to get PoD which was a bloke gazing out over the river. Then we walked through the riverside park and across to the playing fields, a bit we've never been to before in all the time we've walked through the park. From there it was a short walk to The Bean Shop and the coffee. With it safely in the bag we walked back through the town and drove home. The blue sky was still there and so were the few white clouds.
The sun was so welcoming, I went for a walk in St Mo's to feed the ducks and get some more photos. Light was beginning to fade as I was heading home to more pakora and then Scamp's Prawn Curry.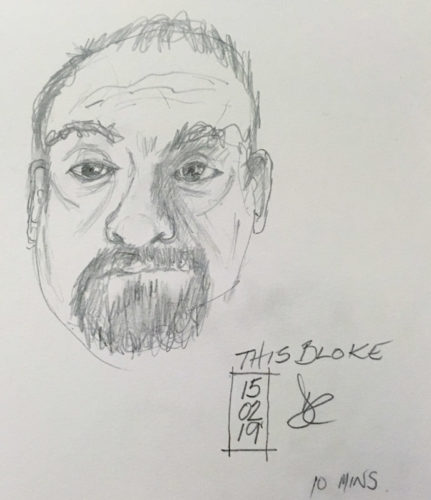 Today's 28 Drawings sketch was done just after midnight last night and was done from a 'Photo Booth' shot taken on the iMac. I think it's a fair representation of the bloke who looks out at me when I'm shaving in the morning.
When we were talking to Hazy this morning I said I'd note the music I'm listening to while I write the blog.  Today it's Michael Kiwanuka – Love & Hate
Tomorrow is Saturday and we have no plans.