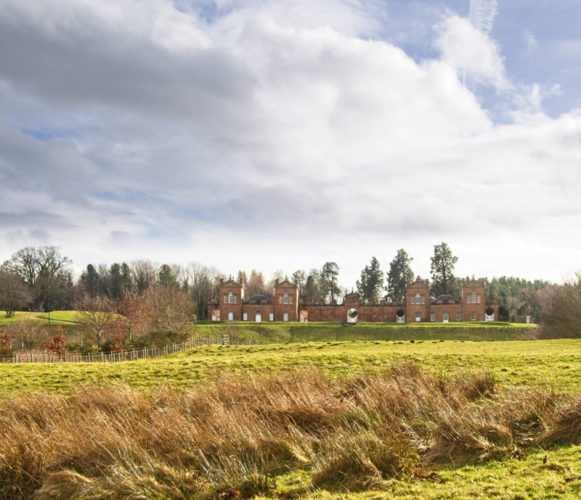 Although today started out cloudy, the weather fairies said it would brighten up. It did.
We drove to Chatelherault for a walk among the trees. It was busy, but then it was Saturday and people like to get out and about on a Saturday. We chose a path we hadn't been on before that would eventually take us down to the old Avon Bridge. It was a fairly easy path. Wide enough and interesting enough to keep us occupied for the 1.5km that was the advertised distance. At least it was until we reached the last 100m which was a steep slope downhill and what goes down must eventually go up. We stopped for a while on the old bridge to watch the river flow and the world go by, then we made our way back along the Avon until we came to the steps that would be the Up part we'd been expecting. It was good exercise, let's leave it at that! From there it was a leisurely stroll back to the centre and the cafe.
I went to buy lunch and Scamp went to find a table. She found more than a table, she found Crawford and Nancy's daughter with her own daughter Imogen. By the time I got the lunches and the coffees, Imogen had been whisked away by her dad to the baby changing room. Such things were never available in our day. Soon dad arrived with Imogen wearing nappies and nothing else. Apparently she had been soaked to the skin and they'd not brought a change of clothes. However her mum soon sorted things out and Scamp got to hold her for a while. I felt a bit like the Kevin Bridges character who has to talk to a baby and all he can think of is "Ye a' right, mate?" I try to avoid talking to babies as they usually just start crying. Imogen didn't cry, she just wanted to test the strength of the material in my sweatshirt. Apparently it passed the test, but wasn't deemed good enough to eat … thankfully! When they left we had another coffee because Scamp had been too busy discussing things with Imogen to drink her last cup. After that we left. It's an ok cafe, the coffee is drinkable, but the food is dire and the prices ridiculously high.
Came home and ordered takeaway from Golden Bowl. Usual for Scamp. Sweet & Sour Pork Balls for me. Fatty pork belly deep fried in batter and served with fried rice and sweet & sour sauce. Can't be healthy because it tastes so good. Even reading those ingredients puts about a kilo on you and elevates your sugar and cholesterol levels to the warning flashing red area. It was lovely.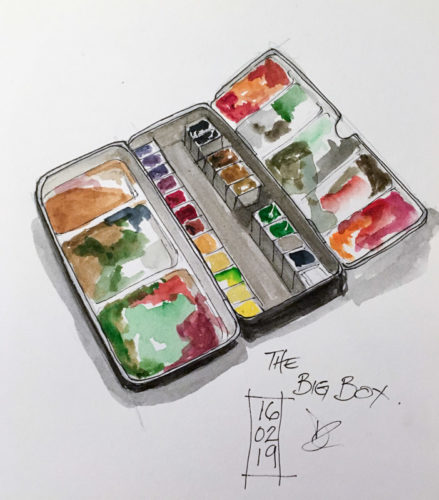 Today's PoD is a fake photo of Chatelherault House. The house is ok, but the sky came from a totally different shot. It works though! Tonight's sketch is of the big watercolour paint box. Done while listening and partly watching a program about how big a bastard Frank Williams of the Williams F1 team was. I never liked him, but I hadn't realised just how nasty he was.
Tomorrow it's due to rain, so I don't know where we're going, if anywhere.