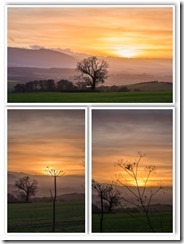 Today we went to Perth. We drove there this time. I needed coffee, it seems like I always need coffee. I've got the blending bug and am happy to mix and match my beans, sometimes coming up something that tastes better than the constituent parts … sometimes.
We'd booked a table at Cafe Tabou for 12.30 but because we were a bit late getting out this morning, we were running a bit behind schedule and didn't have time for a coffee on arrival, but the other side of the coin was that we didn't have as long to wait for lunch! Speaking of lunch, it was:
Scamp
Starter: Mussels with smoked haddock and leek in a mustard sauce
Main: Baked cod steak with leek and smoked salmon risotto with hazelnut butter
Me
Starter: Seasonal salad leaves with beef cheek, roast beetroot, giant cous cous, croutons and garlic dressing
Main: Pan fried venison escalope served with braised red cabbage, potato gratin and bramble jus
Both were delicious.
The rest of the day was spent wandering round the shops. Obviously for my core readers, the actual shops and shopping must remain redacted.
Driving home the sunset was building all the way. I stopped off in my favourite place and got a load of shots, the best of which form today's mosaic.
We had intended to go in to Glasgow tonight to dance at Barca, but after a long day in Perth, we decided not to bother. Maybe next week.
Tomorrow we are expecting a day of rain, so I may go to wander the streets of Glasgow to source even more prezzies or I may just stay in and paint.