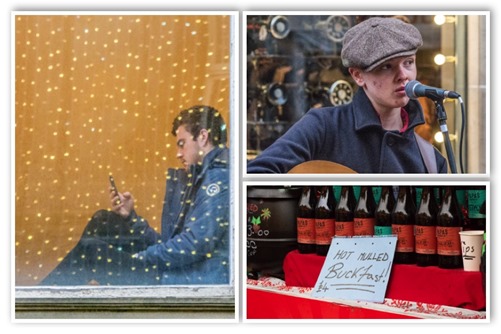 Took up Scamp's kind offer of a lift to the station to catch the train to Glasgow. Much more comfortable than the bus and much less expensive than the car.
Had a look at iMacs in John Lewis, well actually iMac, singular as they only had one on show and a dusty example of the breed it was too. They have the best offer on iMacs, with a three year warranty, but it looks as if they are pushing the portable versions of the Apple computers. Maybe desktops are dying out. From there I went to the Apple store in Buchanan Street, but I've almost totally lost faith in this particular outlet, so it was a cursory glance at these sparkling devices I can't really afford.
Next on the list … Actually, that, like yesterday's blog must also remain redacted. Let's just say I did some shopping. The town was simply mad today with folk running here and there pushing prams, dragging screaming weans and lugging jolly Xmas coloured bags with them. Note 'Xmas' not 'Christmas' as there is nothing remotely religious about this festival or the lead up to it for most people. So after some deeply unsatisfying shopping, I walked up Buchanan Street and grabbed my PoD which was the bloke sitting in the window. The sparkles are a reflection of lights across the street. Now don't get the idea that this is in anyway an Amsterdam window. This was one storey up and well away from the gaze of the shoppers. I think that's the thing about photography and especially solo photography, you tend to look around you rather than straight ahead if you are simply shopping. Headphones and a music player full of good tunes helps too to remove the mundane, everyday things and allow you to enjoy the parts others don't see. Try it sometime. You don't need the camera, but you do if you want to record your visuals, but the headphones filled with music are essential. From Bucky Street to Hot Mulled Bucky. A bit of a culture shock, but I can see how this strong, sweet tonic wine would work as a mulled wine … kind of. Only in Glasgow, or Coatbridge, or indeed the West of Scotland. It's a cultural thing

. Seen in the Christmas market in George Square.
Just as I was taking my phone out of my pocket to ask if Scamp's Taxi Service was back in business, a text came in from her confirming that it was. Now that's synchronicity! Got to the station with 2 minutes to spare before the train left. It was the Alloa train and is of ancient rolling stock. Only last year they put roofs on the carriages and although we had an elderly diesel unit pulling ours, some are still pulled by by a late model of Stephenson's Rocket. Eight of us crammed into the crossways corridor between the doors. Thankfully most of the crowd left at Bishopbriggs and that lightened the load considerably, much to the relief of the driver who thought he'd have to ask us to push the train up one of the inclines. Abellio, what are you thinking about? Extending platforms to take longer trains. What you need is 20th century rolling stock. 21st century would be better, but let's face it, it's a pipe dream. Scamp was waiting for me at the station and we made our way home without eventuality.
Scamp's out tonight so I've agreed to write out my Christmas cards, or is it Xmas cards? Anyway, without further ado, I'll draw a line under today's wanderings and get this posted so I can get on with the work. Battery is still working quite well on the Mac but I'm still doing 'conditioning cycles' on it. You'll understand that I'm sure, Hazy. Curtails my Apple experience, but at least I get to use the quite excellent Window's Live Writer. The blog writer Apple should have written.
Tomorrow? Maybe Embra, postponed from last week.