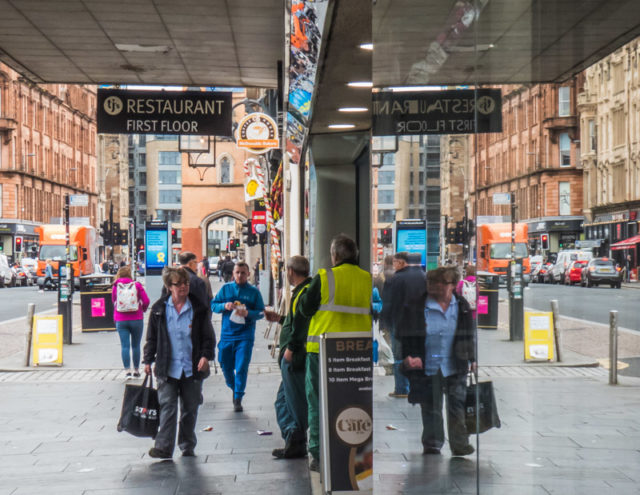 But without the chips.
Today we went to The Barras to have lunch in A'Challtainn Fish Restaurant. Drink would be taken, so we went in to Glasgow on the bus. Coffee in Nero and then a walk down Bucky Street and across the Merchant City to Glasgow Cross, then off into the depths of The Barras. I found it difficult to work out where I was for a while. There were buildings where there used to be empty spaces. There were empty spaces where there used to be buildings. Some of the buildings that were where I left them the last time I was there had now been wrapped up like Christmas prezzies and were being shot blasted. As we walked past these plastic covered buildings I wondered what it must be like working in those conditions. It was noisy enough outside, it must be (literally) deafening inside.
Thankfully Bill's Tool Store was still there, so we had a landmark. We were headed further in to the Barras to a place called BaaD (Barras art and Design) bad acronym. We were booked for 1.30 and it was only just after 1pm when we arrived, but it wasn't a problem because they weren't busy. The food was lovely. Scamp had a starter of Smoked Salmon Crab Cannelloni. The Cannelloni turned out to be a slice of smoked salmon wrapped round a portion of crabmeat. My starter was Grilled Sardines. Both starters were served with Smoked Herring Roe which I can remember having when I was really young because my mum loved it. I didn't, and I still don't.
Mains were:
Scamp – Sorched Scottish Salmon, Lime Pickled Fennel & Smoked Mussels
Me – Crab Linguini, chilli, garlic, lemon, white wine & parsley
Both had complementary Smoked Herring Roe.
We finished off with coffee.
All in all, the food and service were exceptional. Who would have thought that there would be a posh fish restaurant in the Barras (and no chips).
After our lunch we walked back up through the town and got the bus back home. Not before I got today's PoD outside TJ Hughes. I'm not sure if it looked better in colour or mono. I risked the colour version.
Tomorrow it's coffee with Fred at midday and dinner with June, Ian, Jackie and Murdo in the evening all being well. Might even have fish 'n' chips!