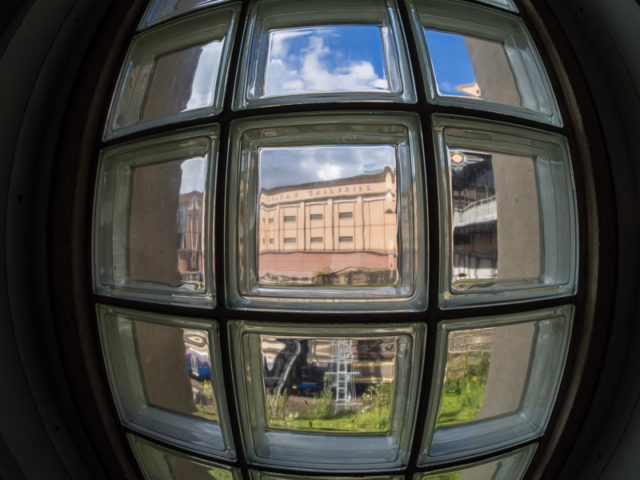 No drilling the wall this morning, but we were up early anyway.
I thought that as the car would be going in for its first service next week, I should make an effort and give it a bit of a wash and brush up. It didn't take too long and then I took it for a run to Craigmarloch to dry it off. Of course, when I was coming back the rain came on to wash away any remaining suds. Saw the strangest thing when I got to the Broadwood roundabout. The lights were at green for me, but one bloke held at the red light decided he could nip in in front of me, then seemed to realise that the roundabout IS actually light controlled. By this time he was halfway across the road and blocking both lanes. When he'd sheepishly reversed back behind the line, I just managed to get past on amber. What a numpty. Having said that, I've done the same thing myself a few times.
Drove a clean car in to Glasgow to go to ballroom class. Managed to get a few shots of the shiny reflective building with the new toy, but the PoD was a view of Buchanan Galleries through the glass brick windows of the car park.
Waltz is getting smoother. Quickstep is getting quicker and Lindy Hops are as bad as ever. Almost a private lesson today as the rest of the class were rated as 'Beginners' and I think we are now 'Improvers'. Knee was sore, but I had taken Scamp's advice and downed a couple of Paracetamol before I left the house and they kept things manageable.
After class, Scamp had business in town and I went for a browse in CassArt. Didn't find anything but students with lists of things to buy for their courses and grants that no doubt would be reducing by the minute.
Drove home and discovered that Jamie G was not taking the salsa class tonight. Nobody was willing to say who the teacher would be, which can only mean one thing, or one person. We made the decision that it was too wet to go tonight with no sign of any fun in the class. We'd supplement our Salsa time on Sunday with a Sunday Social instead, hopefully.
Tomorrow we're booked for lunch at a posh fish and chip shop in The Barras!