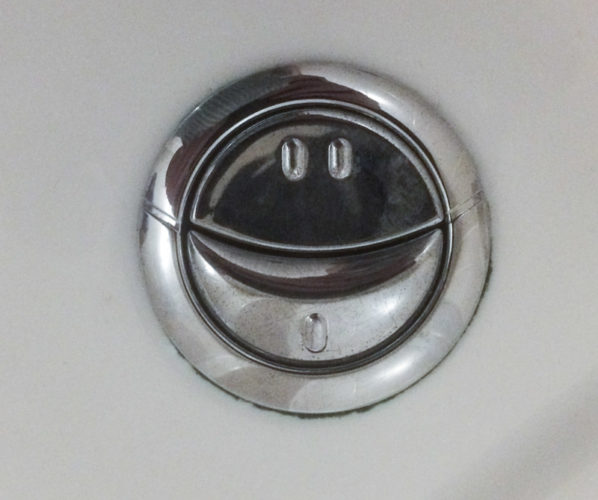 Rain reigned today.  It started off just dull, then the rain came and really outstayed its welcome.
Had  a Neil D lunch of last night's Chicken Rogan Josh and it went quite nicely on toast!  Then made the mad decision to give in and allow Windows 10 to perform its upgrade to Win 10 Creators Update.  That was about 2:30pm.  It's now about 11.45pm and it's still doing it.  Ok, I admit I closed it down to go to the Sunday Social, but it's been going hard at it for the last four hours and is still not finished.  I hope the Creators (or is that Creatures) are worth it.  There was a message to say that I could postpone it to allow me to back up the hard drive, but then it seemed to say "Fuck it" and started installing it anyway borking the backup.  That's what I love about Microsoft, NOTHING.  Macs, even with the despicable El Capitan are so much more user friendly that anything Mickysoft produces.  Windows 7 was the last stable OS on a PC and then Windows 8 came along to be the 'inbetween OS'  The one that never worked.  No Windows 9 for some reason, maybe the same reason there's an iPhone 8 and an iPhone X, but no iPhone 9.  Windows 10 started out well, then the inevitable upgraded borked it too.  Hopefully the Creators Upgrade will sort everything out, but I doubt it.  I think I'll just return it to factory settings after its done its worst.
On a brighter note, Salsa was really fun tonight.  Maybe that's because we had tapas in the restaurant before the dancing started.  Scamp got to dance with the legendary 'Jamie'.  Not 'our Jamie', nor Jamie Gal, but the strange and twisty turny 'other Jamie'.  I think Scamp was quite taken aback when he asked her to dance.  She did look terrified when I saw her!!  I should explain that 'other Jamie' is an excellent dancer who we see at most of the socials.  We think he is a professional dancer.  A very smooth mover who likes to show off on the floor.  He often dances with guys too!  We did think he might be gay, but he appeared with his wife and wee boy.  I know that's no proof of anything, but still …  He didn't ask me to dance, of course.  There were lots of girls there tonight, most of them beginners or pre-beginners if that's possible.  I danced with a couple of them, but it was more like giving a lesson than dancing.  Not that I minded.  Then I danced with another girl who could dance.  Unfortunately, I overstretched her knowledge with one move, Aficionado and tripped over her feet, landing on my bum amidst peals of laughter.  Shannon, the boss, had been videoing the proceedings earlier, but luckily she didn't notice my acrobatics, so it's just between you and me.  First time ever I've fallen on the dance floor!  Bummer.  Literally!
Today's PoD came from the salsa venue, which was La Rambla in Paisley.  I saw it on the cistern in the restaurant toilet today. I just had to go back in and capture this chrome smile.  Glad nobody came in while I was taking the shot. That might have been a difficult one to explain away!
Just checked and as of 12:13am Windows 10, which was predicting 90minutes for the installation at 3pm, is at 92% complete and the helpful message reads:
This may take some time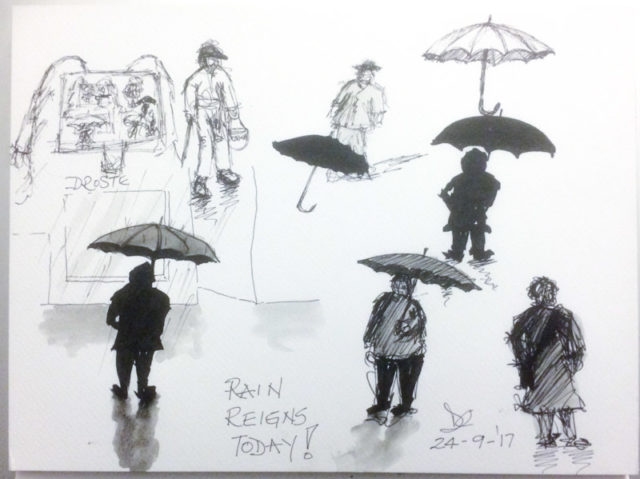 This week's sketch is just a doodle trying to sketch people for paintings and the theme is rain and umbrellas, as if you hadn't guessed.  The weather fairies promise a drier day tomorrow and some sun on Tuesday.  Let's wait and see.
Despite all the bad weather we've been having I still saw some swallows this week, so all is not lost.