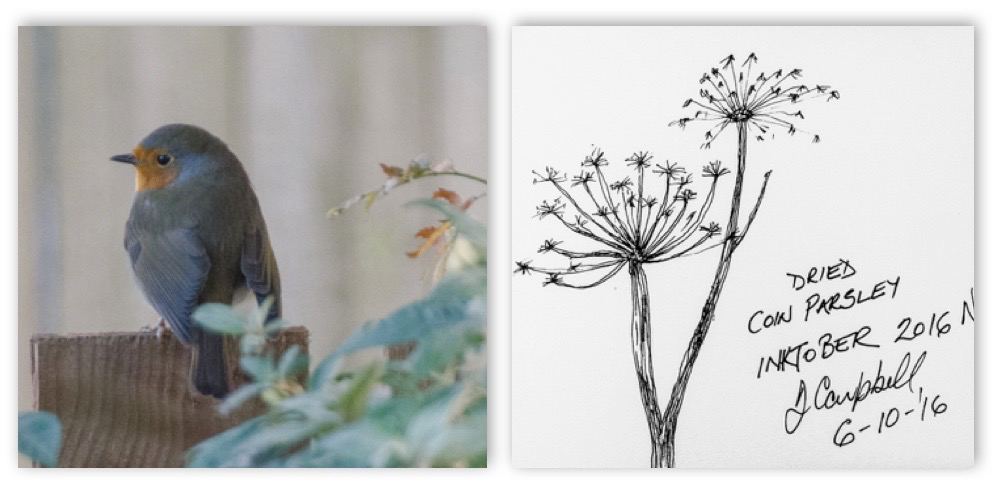 Went out for lunch today at Vecchia Bologna today. It seems that the restaurant has dropped the Vecchia part. It's now just Restaurant Bologna. Vecchia must be too old fashioned 😉 Lunch was the usual excellent quality. I had the pate and Spaghetti del Chef. Scamp had mussels and the spaghetti. Scamp drove today, which was great because I could watch what was passing the side window instead of being totally focused on the car in front. Saw some more of these hay bales disguised as figures. Today's was on the Carse of Stirling and they were made into a cow and a wee man. It looks like they are all made by Young Farmers. Unfortunately, I forgot I wasn't driving and didn't take a photo.
Today's photo was taken much earlier in the morning when I spotted this wee robin queueing for its breakfast. I'd taken a few photos when he turned and caught the light, showing off the texture of its feathers.
Today I tore up the oil painting I'd done the other day. It just didn't work tonally, on a colour basis or in terms of composition. So, basically it was crap. It had to go. However, it had performed its function of getting that landscape out of my head.
Which brings me to today's sketch which is in absolute contrast to yesterday's. Today's was a detailed sketch with no attempt to record the image in my head and reproduce it on paper which is what blind drawing is all about. I'd originally intended to draw part of Doune Castle for today's Inktober, but decided on something a bit simpler. Doune Castle is still on the list of things to sketch. I like buildings. N D'Ag posted an interesting YouTube video on Facebook on how to draw two point perspective and I may try that out some time.
I was a bit better organised today and got most of the heavy lifting completed early, which means I may go to be on the same day I got up … maybe.
Weather was lovely today with lots of bright sunshine. Looks like more of the same tomorrow with a little more cloud, just a little.