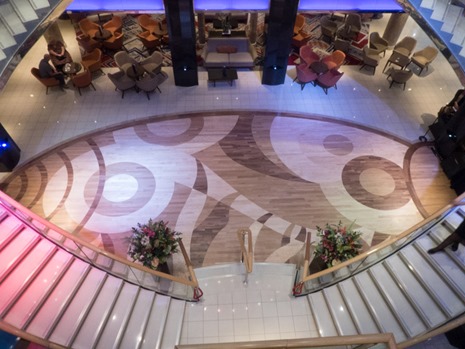 There is a painting class, a salsa class and a ballroom class on sea days like today.
Woke at about our usual time of 8.30. I'd visions of still being in the land of nod well after breakfast was past and we were into lunch time, but it wasn't like that. We were up and out before 9.15 and went to Smash 'n' grab for breakfast. Then it was time for me to head for the watercolour painting class in the Metropolitan lounge where the self-important singer had been last night. Scamp went to the ballroom class instead. Our tutor, a man from Kurdistan, was called Easa. He told us it was pronounced like Lisa, but not to call him Lisa. His style was more direct than that of the tutor two years ago and he didn't come with the baggage of a published book he felt he had to publicise. Once the usual self proclaimed 'artist' had shown him her iPad full of her paintings (she did commissions, probably for blind friends.) we got started, but while we were waiting for the lady to get her complements, I did a quick Loomis sketch of her! I can't say I agreed with all Easa's colour choices, but on the whole the finished article did look like the tiny little photo he'd given us to copy. On the next sea day we are painting penguins (or so he says). We'll have to wait and see. Scamp seemed to enjoy the ballroom which was the Social Foxtrot, but said that the teacher had a cutting voice. It was time for lunch.
We agreed that we'd have a light lunch and for once, I stuck to my promise. After that, it was time for the Salsa class and much to my surprise it was really good, although the men's teacher was just a little bit camp. I really enjoyed the class although it was a bit basic for us, but perhaps, just perhaps if they're teaching salsa during the day we might get some decent music to dance too tonight. Next up was the afternoon session of Social Foxtrot. It came as a bit of a surprise to me to discover that P&O are allowed to employ Nazis. I'd have thought in these days when you can hardly mention Hitler's name that one of his high ranking officers is allowed to be a ballroom teacher. "Cutting voice" Scamp had said. Yes, it was certainly cutting and also hectoring. "Ladies, some of you are STILL facing the wrong way. If you're looking at me, you CANNOT be facing forward." I gave up after that. I came on this ship to enjoy myself, not to be shouted at. I apologised to Scamp and we went for afternoon tea. I saw a couple of dolphins, but Scamp just missed that experience. I'm sure there will be more.
Weather and sea was a bit heavy today, although the Bay of Biscay was not too choppy. Air temperature a bit cooler than we'd hoped for with a high of only 18c.
Last night, although I had steak for dinner, the lamb shank looked lovely too. Tonight I had Gammon Shank and it was gorgeous. Scamp's starter of Seared Tuna was declared delicious too. Food appears to be much better here than Thompson's and without the overhead for steak. An unnecessary addition to the cost of the cruise in my opinion.
Watched the sequence dancers for a while, also known as dancing for the already dead. I don't see me ever stooping that low. They didn't play any salsa, but then again it was the Nazi who was in charge, so I didn't expect any.
Went to the show and enjoyed Reel To Reel for the second time, I'm sure. Late night coffee (decaf – Sorry Hazy, I know you expect better from me) and a slice of pizza. It's much warmer outside tonight than at any time of the day.
Hoping to get up early for the bus to Oporto and our feet on dry land again. Land that doesn't move!