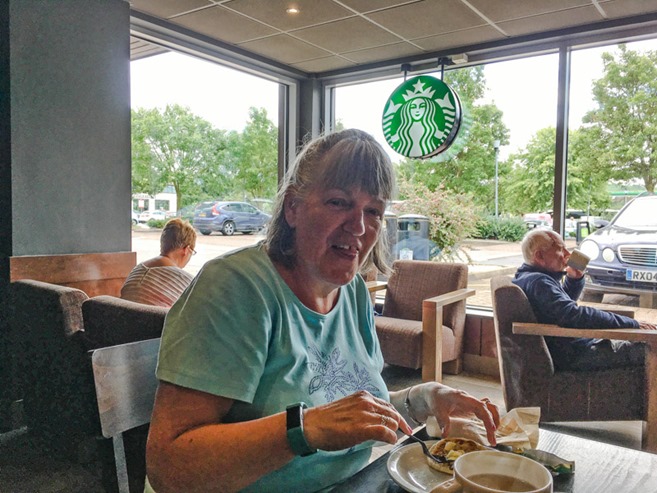 Today started early, very early, around 2am early.
Up and a glass of OJ as breakfast, then a last scout around switching power off here and there until the phone rang twice to announce the arrival of the taxi. A quick drive to the bus station where the bus was waiting. Then we were off proper. First stop was services in the north of Engerland, near to where JIC and Sim would be out walking Vixen in a few hours time. Probably for the first time in her life, and maybe the first in mine too, we had breakfast in Macdonald's. Who'd have thought it, the foodies in Micky D's, but little did we know that more and worse indignity was to come.
Back on the coach and down even deeper south for a short stop to change drivers and a chance to stretch our legs, then it was a longer run and a longer stop at the end of it near Warwick this time we were forced to join the Dark Side. The only option for coffee was That Whose Name Must Not be Spoken. So it was burnt water for drinking. Scamp wisely opted for peppermint tea. I must admit though that their Spiced Beef on a Bagel was quite excellent and the spicing on the beef successfully masked the taste of the burnt water they advertised as coffee. To prove that we did in fact visit TWNMNBM, I took a photo of Scamp sitting in front of their logo and it became PoD. The driver we'd picked up just outside Manchester was a PITA who thought he was a comedian and a fount of all knowledge. I think his name was Richard, because he sounded like a Dick. However he got us to Southampton in double quick time and the usual efficient P&O embarkation procedure took over from there. The cabin is small, but perfect for our needs. Just before we left Southampton with no fanfare or even a notification from the bridge, it started raining, then the mist came down and we settled inside after taking some photos of Britannia and the Queen Mary 2 to unpack.
Dinner was in the "Sit down and be served" restaurant and was sooo much better than Thompson last year. Later we went to the upstairs lounge on the top floor to listen to a pianist who was really just too far over the top to be comfortable. Impressive playing, but the singing was dire.
Early bed for us after a long day. Getting to bed at 10pm means we've been on our feet for almost 20 hours.