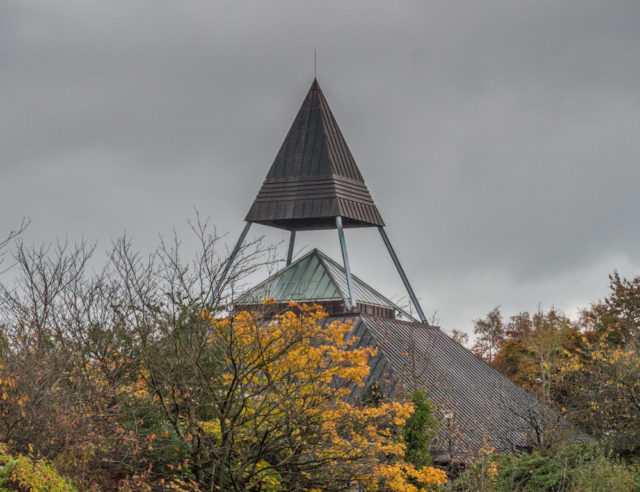 After a fairly lazy morning I was gearing myself up for what might be the final visit to the physio.  I needn't have worried.  After a bit of prodding and stretching he declared me fit to go out and push my shoulder to its furthest extent.  To go where no shoulder has gone before.  He did, however stab half a dozen needles in just to warn it (and me) that if we didn't behave, there would be more prodding, stretching and stabbing to be done.  I find it hard to explain how I feel.  I've gained nothing from the exercises, but I've lost all the pain associated with the injury.  I think that's the bit that's hard to explain.  It's the lack of something rather than a gain, although it is a gain, I've gained the ability to make my arm move, painlessly, in ways that it hasn't in about a year.  I've been set free from the pain.
In the afternoon, I went for a walk over Cumbernauld Fields to sketch Cumbernauld House.  The house was under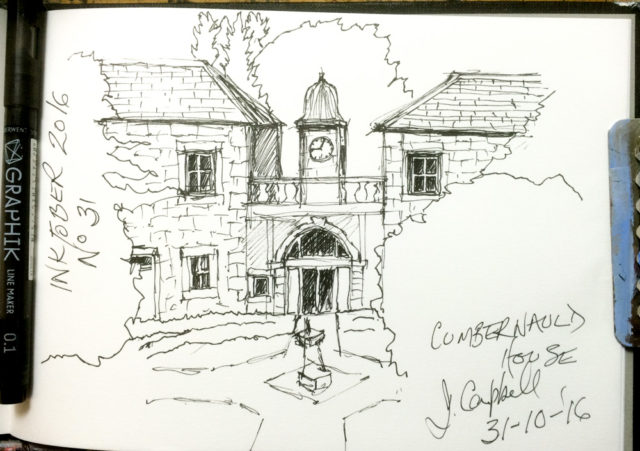 the governance of CDC (Cumbernauld Doesn't Care) when we first moved here.  After that it was taken over by NLC who almost immediately sold it to the highest bidder.  Now it's been converted to a host of executive apartments.  Such a shame, but not surprising from the despicable NLC.  That said, I chose part of Cumbernauld House as my final Inktober sketch.  Technically it's nowhere nearly as good as the Venetian Mask (my favourite), it's a fair representation of the house.  I'm going to miss Inktober.  Admittedly I will now have more hours in my day, but sketching now has a place in my life.  I'm glad I completed all 31 of the sketches, all in ink, and most in a bound sketchbook.
Kizomba is bucking the trend for dancing in the STUC.  It's becoming a Man's dance.  More often than not, there are more men than women in the class.  Very strange.  It's becoming a bit more technical, especially with footwork, but I'm still hanging in there, kept in check by the very tolerant and patient Scamp and Irene V.  I blunder through more steps than I've ever encountered in Salsa, but it's still enjoyable.  If it wasn't I wouldn't have signed my name on the sheet to say I was interested in a Level 2 class.
Salsa was another example of Jamie Gal's zany and, at times, absolutely mental imagination.     Who would have thought of issuing all of us, leaders and followers with glowsticks and then turning all the lights off in the STUC then dancing a rueda.  Meanwhile there were sweets, lollies, chocolates an oranges to sustain us.  Very Halloween.  Thank you again Jamie Gal for your insane imagination.
Tomorrow?  Glasgow?  Maybe.