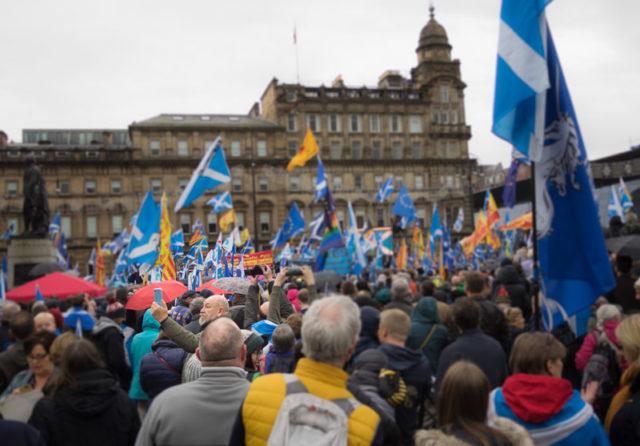 Today was going to be a busy day with a load of culture.
Today I was dropping Scamp off in Baillieston at midday for a choir rehearsal and then I was off into Glasgow to see Dougie's photographs of Cuba.
The first part was fairly easy although the sat nav took us by a different route from that chosen by Google Maps. No big problem though because it got us there, possibly quicker than Google would have. Dropped Scamp off and headed for Glasgow. Took a wrong turning, but followed my nose and the lie of the land and found my way on to the M8 again at Easterhouse.
Got to Glasgow and parked on level 6 of Buchanan Galleries. Even then it was just a lucky space. Don't usually have to go that high! When I was walking down to Tolcross where the exhibition was, I did notice more than the normal amount of Saltire clad Scotsmen (and women, but mainly men). The worrying bit was the amount of police roaming George Square. Much more than a normal Saturday.
Got to Dougie's exhibition and had a word with him. Some lovely prints on the wall. Didn't even ask the price because:
If you have to ask the price, you can't afford it.
I'd been in such a rush to get there, I hadn't had time to go to the bank and I only had £10 in my pocket. That said, £10 was the price of the catalogue, signed catalogue too by both artists, so not that bad.
Listened to the introduction to the gallery and the ethos behind the photos. Then the two photogs took us through a few of their photos, explaining the reasons for hanging them. Dougie spoke no Spanish and Roberto Chile, the other photog spoke no English, so the translator was kept busy. My one criticism of the event was the translator. He spoke in a monotone all the time. Shannon (Dance teacher Shannon) was there. She would have been a much better translator and would have injected a bit more life into the talk, and the occasional "Ooo la la" too. I must suggest it to Dougie.
Too many people there and too few seats, which meant I was leaving with a sore back. Walked back up the hill and found that the Saltire Army must have been breeding. There were hundreds of them all being whipped into a frenzy by some opinionated numpty with a microphone. The crowd did, however, give me the opportunity to take some crowd photos. Best one I got was That Selfie Moment which made PoD.
Walked up to the car and was trying to get out when I came across a poor woman trying to reverse what I suspect was her husband's rather large automatic Audi out of a tight parking space. She was in a tizzy and had got herself into a position where it was almost impossible for her to move back in to the space and impossible to get out. I took the bull by the horns and gave her some simple driving instructions and between the two of us we got it out without any bumps or scrapes.
Drove to Tesco to get lunch and then realised that it was 3.30pm and Scamp's concert started at 4.00pm. Dumped the loaf that would have been my lunch and drove back in to Baillieston and just got there in time. Thoroughly enjoyed the Faure Requiem. An hour's peaceful music in a busy day.
Dinner was a dire curry from Bombay Dreams. Not sure what was wrong with it, but it wasn't their best. Suffice to say if the next one isn't any better we'll be looking for an new Indian take-away.
Tomorrow we may go for a walk and there's talk of a practise session for Jive, Quickstep and Waltz in the afternoon.