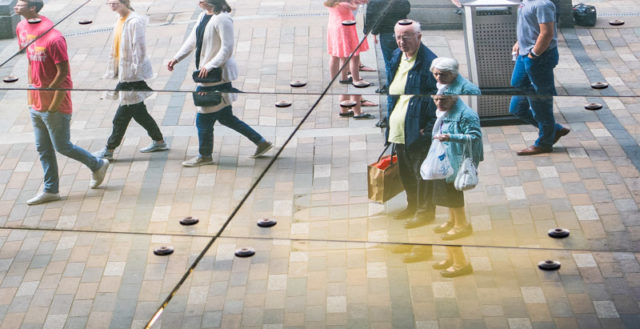 Settled on Stirling for today's visit.
Managed to convince myself that the Merrel Moab trainers were worth the money. Even in Sports Direct they were still expensive, but as Scamp says, you sometimes have to pay the money for quality. Vibram soles and Goretex uppers should see me sure footed for the summer.
Got some photos of folk mirrored in the ceiling of the Thistle Centre and with a bit of jiggery pokery, that's what became the PoD. Back home the parking was ridiculous. Cars and vans everywhere. Finally got a space away up the top of the road, hoping to get a place nearer hand later, but that wasn't to be. Too many cars. I blame all these two car families.
Be brought back a Gypsophila plant from Waitrose in Stirling. You quite often see annual gypsophila, but my mum had an enormous gypsophila in her front garden and it was  a perennial plant, growing bigger and flowering better every year.  Lots of tiny little white flowers.  I'm glad we've got one too. Hope it grows as well as her's did.
Watched a young crow trying to get a drink from the bird bath and it seemed to having a terrible time getting to it, so Scamp decided it was time to rearrange the plants so that the birds could get easier access to the water. I think it works now, but we'll have to interview the birds to see if it's a real improvement.
I'm sitting wearing my new Moabs tonight as I'm writing this, wondering if they are comfortable or not. It's not always easy and it may take a day or two wearing them in the house to be completely sure.
Tomorrow we're hoping to go dancing again at the Record Factory. Just a normal Sunday Social this time.