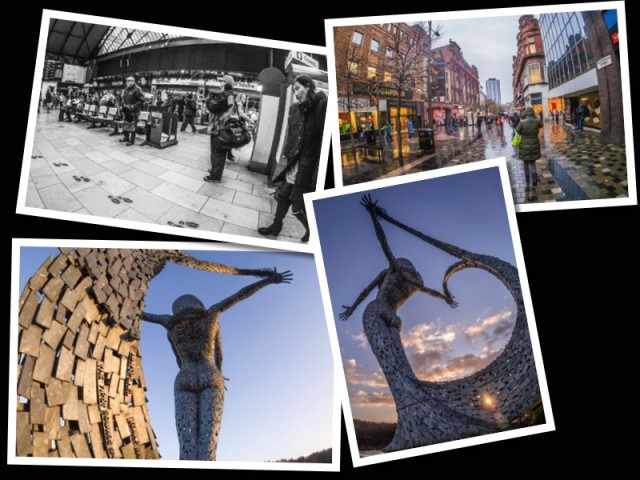 Well, at times it was delightful.  It started well, with blue skies and early morning sun.  I had planned to go in to Glasgow to get my Christmas shopping finalised.  Well, sort of finalised.  Final is such a, well, final word that I very rarely use it.  Let's say that "Today would see my Christmas shopping nearly finalised."  That's a better way to put it, it leaves a bit of wiggle-room.  "Wiggle-room" is a hyphenated word that will no doubt make it into the OED next year if it isn't already there.  Scamp kindly offered me a lift to the station so I could travel in comfort rather than sit on a cold bus for 45mins.  The kind man at the station gave me £7 change with my tickets which was a bit of a surprise as I'd only given him a fiver!  I gave him the fiver back.  He smiled and looked relieved that I'd been honest.  After all, 'tis the season and all that crap.
By the time I got to Glasgow the rain was pelting down, so I cut to the chase edited out my window shopping and concentrated on the real stuff instead.  Got everything I wanted and headed home on the first available train.  I'd phoned Scamp and she was just driving in to the station as I was walking out.  Perfect timing.
After a swift lunch, we both went to the gym, separately.  She to have a 'facial' me to investigate the new whizzo machines in the gym and to have a swim.  Gym looks much better laid out now.  More stuff in it and it looks like there's more space.  A sort of 'Tardis' conversion then.  I'm hoping to try out the machines later in the week.
Dropped in at Tesco to spend a Tesco voucher I got when I retired, that's almost 18 months ago!  I bought myself a bottle of Glenrothes whisky with it (Whisky was what I was told to spend it on 18 months ago).  Glenrothes appears to have nothing to do with the New Town of that name.  I don't think I've ever been to Glenrothes, but the name 'New Town' damns it anyway.  On the way to Tesco, the sky had cleared after dumping tons of rain on us from about 11.00am and it looked like being a great sunset and the statue of Arria was catching some great light, so I took the opportunity to combine the two and take some shots of it.  You get someone to build a gigantic statue of a Roman emperor's mother (Why?).  You put it in a prominent place overlooking a busy motorway, but you don't tell anyone how to get to it.  That's Scotland for you.  Shoots itself in the foot every time.  Actually it's quite easy to find if you know where, but isn't that a universal truth.  You have to drive through Eastfield Cemetery, park at the end and find the overgrown path to the statue.   Simple!  Such a shame as it's a stunning piece of work, but I've no idea why she has four arms.  There's probably a good punchline waiting to be heard there.
So, for once it was a delightful day.  Started well, crap in the middle and finished well.  Sort of like a crap sandwich.  Now there's a delightful thought to end with.