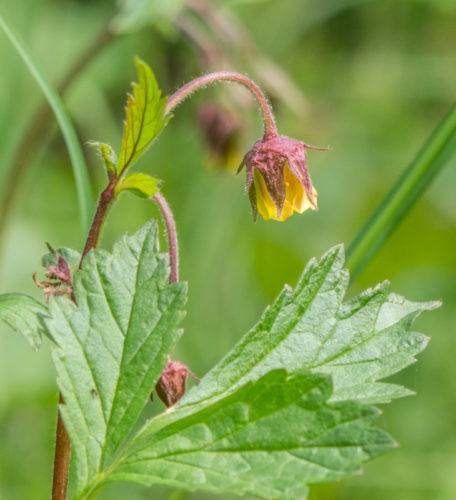 Today we went in to the Royal Infirmary in Glasgow to find the result of the biopsy on Scamp's arm after the initial mole had been removed. This was the 'big bite' they were testing and the result was that no more cancerous cells had been found. The all clear that we were hoping for.
We drove to Cambuslang Road to a little dance-shoe shop where Scamp got herself, not one, but two pairs of dancing shoes to celebrate. Then after a coffee in a Costa in Tesco (never seen that before) we drove home, but on the way we stopped off to get the ice creams we were denied last night. They were put away in the freezer to wait for a suitable time – maybe tomorrow night.
After lunch I went out for a walk down the Luggie and got the above PoD of a Wood Avens, at least, that's what I think it is. Watched a buzzard being mobbed by a couple of crows and nearly, oh so nearly nabbing one of them for dinner.
Driving in to Salsa tonight was a nightmare. I believe twenty two men were rushing around a park, chasing a ball and a couple of thousand folk were either cheering them on or heaping their derision upon them. It's called Sport and that's why the M8 became a car and bus park for an hour. Salsa was good. Beginners were doing Dile Que No and the 'advanced' were doing Tresario Dos then La Cunada after I managed to get it playing on my phone over WiFi from my NAS drive. Technology is wonderful when everything hooks up perfectly (on that one day a year).
Tomorrow? Maybe going in to Glasgow – Still wondering about that TZ 70. Should be called Teazer 70.