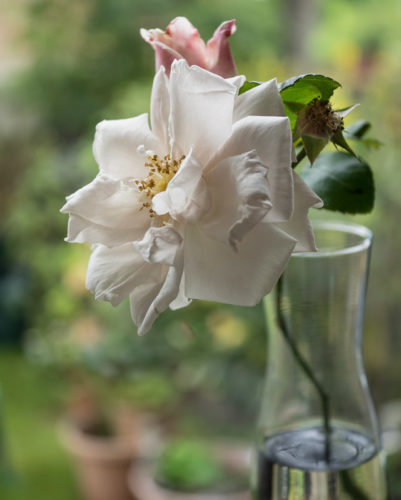 Today Scamp was just a little bit better. I was concerned that dancing might maybe too demanding, but on the other hand it could just take her mind off the pain.
Jive first, and because we were the only beginners there, it was a private lesson. Really useful. Learned a new move although the name "Shuffle Ball Change" does need a rethink in my opinion! Then a bit of wash and brush up for the waltz and quickstep routines. The hour just flies by sometimes.
When we were walking along for a coffee and a discussion of today's progress, I had to stop and photograph the Devil Duke of Wellington whose dark mask had slipped, exposing his glowing 'devil eyes'. It might just have been a trick of the light or it could have been something more sinister. Take a look at the pic on Flickr and make your own mind up. It didn't make PoD. That went to a shot I took this morning of a rose I accidentally cut down. when I was pruning the rambling rose round the back door yesterday.
Macaroni & Cheese for dinner! Quite excellent! Then it was time to go out to Salsa. Two classes with lots of new and reprised moves. Great fun as usual with Jamie G's classes.
JIC phoned to say that his birthday tee shirt had arrive and fitted. After Scamp's story of woe, however, he did comment that he should have washed if first with all these stories of Norovirus!
Scamp looked exhausted tonight and eventually admitted that she had probably done too much dancing, but that it had indeed taken her mind off the itch from some beastie bites and the pain from her 'stitch'. So it was most likely the best thing to do in the circumstances.
Tomorrow I have to get the photos and stuff packaged ready for Colin's Flower Show. He says he's resigned from it, but I know that he'll still be keeping a weather eye on proceedings.