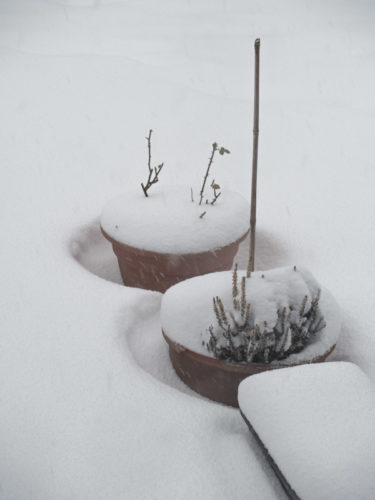 Today the snow got serious.
My Fitbit is usually a good measure of the amount of exercise I'm taking part in. In a negative way it's also a signal of the amount of sitting on my backside I'm doing. On a reasonably active day I can achieve just under the recommended 10,000 steps. On a really active day my steps can reach 12,000. Today, as of now, I've only done 1,775.
The snow has been continuous today. The furthest I got was a couple of steps out the front door. Now I'd find it hard to get the door open. The snow is piling up about 20 cm up the door. Not solid snow, but blown by the strong wind so it piles up at the door. Today's Pod was taken out the front window and shows Scamp's 'muffins'. Her plant pots in the front garden, looking just like iced muffins.
Today was the final day of 28 Drawings Later, and to make it a bit symmetrical, my final painting for this group was in a similar vein to the first:
Tomorrow? I don't know. The weather is supposed to improve slightly tomorrow, but probably only slightly.