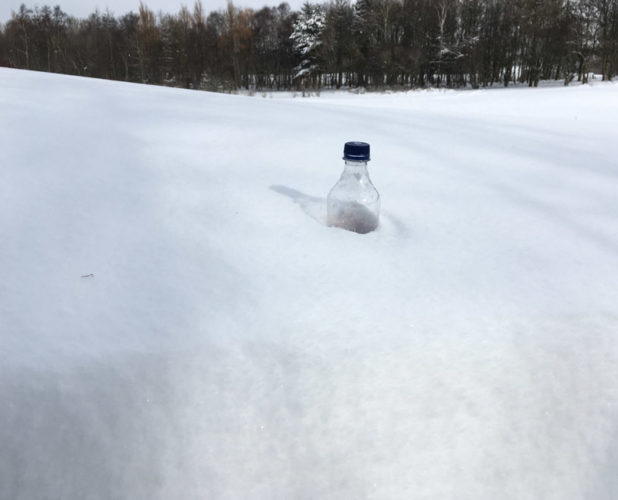 Cabin fever was high today so I went for a walk in the snow
Put on my wellies and cleared a path from the front door. Thankfully the boy next door had cleared a path from their door out to the pavement, so I only had to join ours up to theirs and we were done. The snow was powdery and light and lifted easily at least it did until I trampled it with by wellies, then it compressed into slabs that were heavier, but still easy to lift with a shovel. I wanted to see just how the outside world looked in this deep, white coating. The answer was that it looked very bright and I instantly regretted not having a pair of sunglasses to hand. Why would anyone need sunglasses on the first day of March?
I walked over to Condorrat and watched the cars go by, slowly, from the bridge and watched the police erecting a ROAD CLOSED sign complete with a complement of cones on the northbound side of the M80. There weren't many cars, lorries or other vehicles going in either direction, which was just as well as the road was down to one lane. The road over the bridge was down to one lane too with the extra hazard of a black van parked outside the bookies half on and half off the road. As I got closer I noticed that it was a satellite van and there was a film crew interviewing one of the 'workies' shovelling snow from the pavement in Condorrat. The news must get through, you know.
Tried in Spar for bread or milk, none. There was an enormous queue snaking all round the shop and folk with every conceivable foodstuff in their basket. Tried in the newsagents for bread and milk, none, but at least there wasn't a queue here, so I bought a couple of bars of chocolate. It is still Thursday, even if we are almost cut off from civilisation!
Walked back and had soup for lunch. Then took Scamp out to survey the snowy scene. She was as impressed as I was with the alien landscape we walked through. This time I was wearing my cycling glasses with yellow tinted lenses. They make everything sharper and yellow (obviously) for a while and then you don't notice the yellow, in fact you notice just round the edges, outside the frame that everything there is blue! So strange. There was a bit more traffic on the motorway but the diversion was still in place and when we walked back to the estate ring road, it looked much the same as it had when I first went out. I'd say it was down to one lane, but that would be a misnomer. There is no way you could call two slushy ruts in grey snow a 'lane'.
Came home and fed the birds at what was the back garden. It's now another field of white. At least there was less snow falling today and for a while it even felt as if it was thawing slightly. As I write this, around 10.30pm the temp is only -0.4ºc which is a good sign I hope
PoD is a ginger bottle (soft drinks bottle) stuck in a half meter deep snowbank.
Tomorrow, who knows. Checking websites to see what's open and what's not. Will keep you posted.