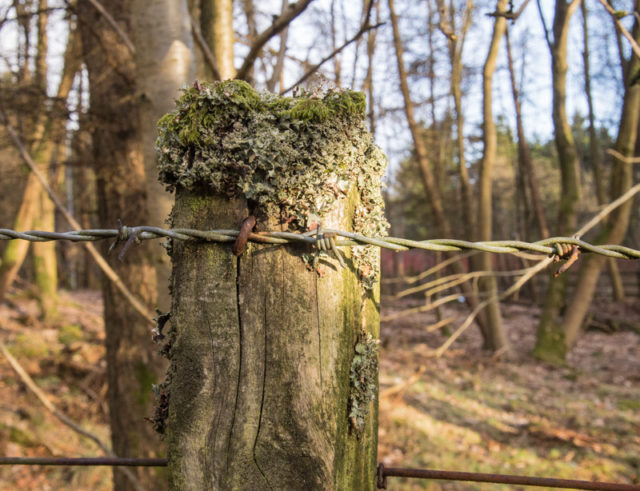 Today it snowed a bit.
Spoke to Hazy on the phone in the morning and she gave us a weather report from down south and it was cold with a little snow.  Later in the day Sim posted a photo of the tiniest sprinkling of the white stuff in their garden, slightly north of Hazy and at that point we had blue skies.  Ok, there were clouds too, the majority of the sky was clear.  Later in the day the snow started, then stopped again.
Went out to Tesco and got some beefsteak tomatoes to make some soup and thought I'd do a painting of three of them with my painting mug to break up the monotony (before I made them into soup of course!)  Got some cardboard cut and primed an after lunch I got started to paint.  About halfway through the painting I began to wish that I'd stuck to ordinary tomatoes rather than beefsteak with their puffed out bits and creases. However I stuck with it and the evidence was made into soup tonight!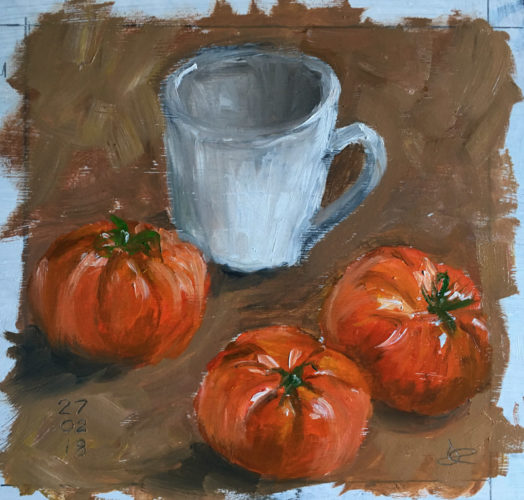 Before the good light disappeared I went for a walk in St Mo's.  It was cold with that east wind and the snow was still trying hard to fall, but just not cutting it.  I got my PoD with the last of the afternoon light, before the sun disappeared behind the tree line and darkness returned.  Just after I got back, the snow started with a bit more force and this time it was falling on already frozen ground, so it's lying.  We're expecting some more snow tonight and in waves all day tomorrow.  Constant warnings on the TV not to travel tomorrow.  It's OK.  If we are going dancing tomorrow afternoon, we're going on the bus and since Salsa on a Wednesday is a optional outing, we may just stay home instead.
That about wraps us today.  Tomorrow, maybe a trip in to town for Waltzing and Jiving, but not a lot else.  Oh yes, and I have an idea for the final 28 Drawings Later picture.