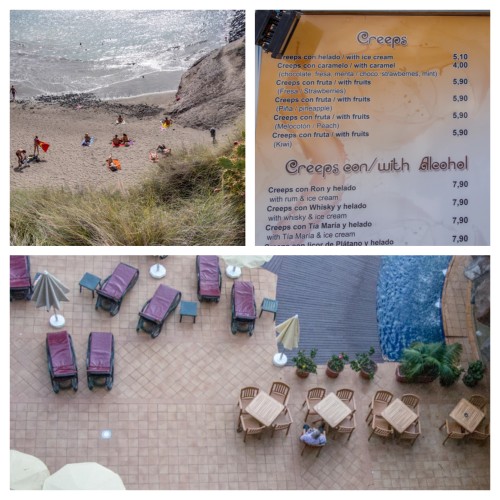 This morning we woke to a sky that was partly cloudy, but this didn't worry us as we knew the sun would burn away the cloud and pretty soon it did and left blue sky all around. Breakfast was the usual holiday affair and as usual I ate too much.  I think I had too much sugary stuff and suffered for it for a while. After breakfast Scamp wanted to get some basic housekeeping done – pool towels, safe key and we decided we'd have the €3 per day drinks package for dinner only. The one complaint I have about the hotel is the cost of drink. €1.70 for 200 ml of beer is a bit heavy when you consider that at a cafe across the road we can get 500ml for €1.50!  Anyway, we took the drinks package.  We already had a little bar set up in the room, the beer cost was an incidental.
After we got the house keeping out of the way, we sat poolside for an hour or so, but with noisy foreign neds and the kiddies club nearby, it was not that comfortable, so we did what we'd intended to do and went exploring. We walked down to the front and walked right (we'd walked right last night) along the promenade.  It was quite windy, in fact very windy at times.  Took lower path back and had a beer (cheap beer) and a bowl of chips in a wee bar.  Walked back and bought more drinks for the room bar.  Snooze for me when we got back and reading for Scamp.  Explored the level 5 pool later and I got another sketch done.  Now it's time for dinner.
Dinner was ok. Still the same stramash,  like an unruly school dinnerhall. I was a bit more circumspect today but the rice pudding with cinnamon is lovely.
The entertainment tonight is dancing dogs. I kid you not!  Scamp made the corporate decision not to go yesterday when we heard.  yesterday's group was bad, but dancing dogs is a new low. No firm plans for tomorrow, but I think level 5 pool will have a starring role.