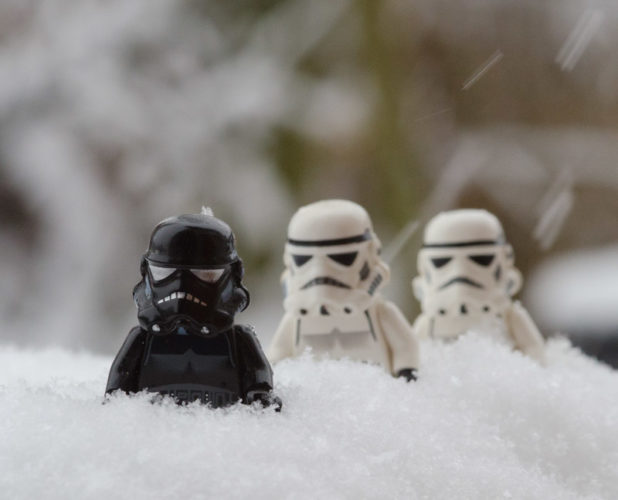 It had snowed through the night, but none of the white stuff was falling from the sky when we woke. When Scamp went for her shower I was looking out the bedroom window to see if we were still blizzard free, when I saw a man wearing council overalls walking down the path, towing a green topped bin and a brown bin. Both small bins. He stopped and left them parked outside our door! Oh what excitement! Santa had delivered. This probably needs some explanation, so here goes.
Away back in October we wee informed by the Cooncil that we would be getting two new bins; a blue bin with a green lid for glass and metal food tins and a brown bin for garden waste and food waste. There was much weeping and wailing and gnashing of teeth in the household because we have such limited space at the front door and to put them at the back door would mean trailing them through the house on bin day. Scamp phoned and asked for small bins and was told it wouldn't be a problem. A month later she phoned again to ask when they would be delivered and was told that they would be delivered on 28th Nov (but they didn't say which year!) Finally she got fed up and wrote to our MSP who sent a reply to say that he had contacted the Cooncil and would inform us of his progress. On Friday I sent the following email to Environmental Services at NLC:
Dear Santa,
I was hoping that on Christmas morning you would leave a shiny new Small Green Top Bottle Bin and a Small Brown Food/Garden Waste Bin at our door. We don't have a chimney, so leaving them at the front door would be the best option, even although we have very little space there. I've already phoned the council and they said we would get them. My wife phoned them last year and they told her that the bins would be delivered by the 22nd November, but they forgot to say which year! We've even written to our MSP, but still we don't have the bins. You are our last hope Santa.
Thank you,

Donald Campbell
"The squeaky wheel gets the grease", they say. Today we got our bins. Later in the morning we stuck our house number on each bin to prove that they're ours and there's even some bottles in the bottle bin now. Maybe someone in the Cooncil was having a bad day on Friday and I gave them something to smile about. A little humour goes a long way, they say.
The rest of the day was a bit of a non-event after that. It started snowing heavily soon after the bins arrived and didn't stop until about 4pm. We should have been going to Salsa about 4pm, but the decision was made earlier in the afternoon to cancel today's dancing because of the weather.
Today's PoD was planned and shot in about 15minutes, but I was happy with the result.
Tonight it's raining and tomorrow the temperature is forecast to rise to about 5ºc and 10ºc on Tuesday! That, along with the rain, should put paid to the snow for a wee while. Hopefully we will get out somewhere tomorrow.