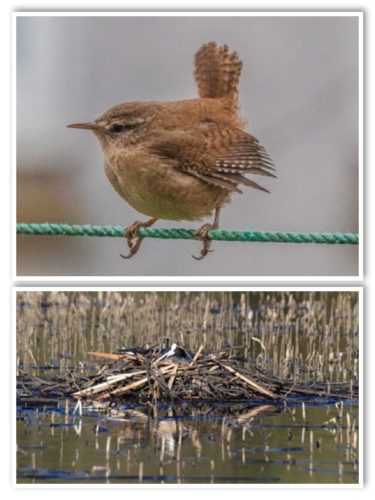 The back bedroom has been *my room* for a long time, and the front bedroom is the spare room with just insufficient room to swing a cat, so when the lodger appeared, we were a bit lost about where he should go, but we needn't have worried. He had provided his own bed in his own room.
When I got up to make breakfast this morning I was amazed to see a wren sitting, no, not sitting, dancing on the clothes rope in the back garden. Singing his heart out, he was obviously full of the joys of spring and eager to entice Jenny, or any other lady wren to dance along to his tune. After I'd grabbed the nearest camera and taken a few shots, then grabbed a more suitable camera / lens combination and repeated the exercise, I noticed him fly down to the back door. At first I couldn't see where he had gone, then I realised. Scamp has a plant pot hanging by the back door. It's called a Wanderella and is conical in shape with the wide part of the cone at the top. It's almost full of peat and has holes about 2cm diameter all down its length. I'll try to get a photo tomorrow. I guessed that Mr Wren was using one of these holes as an impromptu nest. It was actually a good ploy as Scamp had upended a bowl on the open end of the wanderella to keep the peat from getting waterlogged during the winter.
Later in the morning when Mr Wren was out carousing outside the garden we risked lifting the bowl and there was a beautiful hollow ball of moss with two entrance holes, just the right size for a wren. The nest was empty, so we put it back in place as carefully as we could. It wasn't until much later in the afternoon that I noticed that he had returned. I hope we didn't disturb things too much because a lot of work had gone into that green moss ball.
We drove through torrential rain today to go to Vecchia Bologna for lunch. Mine was one of the worst pizzas I've ever eaten, but Scamp said her veggie penne was lovely. I know I should have complained, but this is the first time I've had a poor meal in the restaurant. That's one of their lives gone. Two strikes and you're out. These days there is far too much competition for food to be sloppy about cooking and presentation.
Waitrose, then home. It looks like Crazy Water Fish tomorrow. Something we learned to cook in Sorrento at a one day cook school. It's a long time since we've made it, but Scamp thinks she still has the recipe.
Fought with iTunes in the afternoon and eventually managed to get it to give up the forty tracks it insists on leaving on my iPhone every time I try to clean it out. I'm a great Dylan fan, but if I hear Abandoned Love one more time I think I'll risk the six points on my license just to throw the phone out the window. Anyway, with the help of the Interweb, I finally ditched the forty songs. I also managed to get rid of the 'greyed out' tracks on iTunes. It's amazing the little tips you pick up on the iTunes forums. I'm a firm believer that Bill Gates wrote the code for iTunes. It's clumsy, it's bloatware and it never works properly. Typical Windoze crap. I rest my case.
Had a quick walk around St Mo's just before the sun completely disappeared, but only got a few almost usable shots of a coot sitting on its nest. Not great, but not too bad either.
Tomorrow we may be going to the (F)Art Galleries to hear a choir. Scamp will probably listen to the choir and hopefully, I'll sketch. No Sunday Social until the arm is healed 🙁