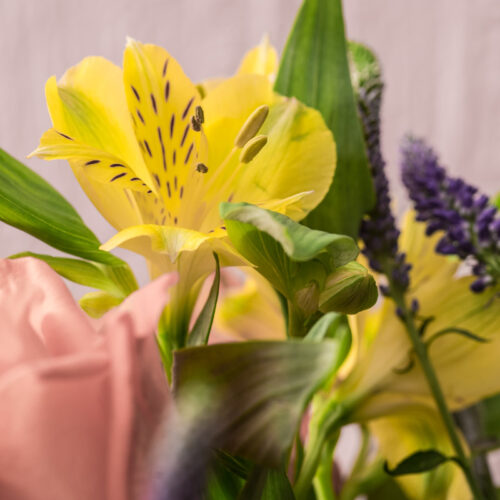 But that was enough, at 8.15am, to get me out of bed.
He was just walking away as I opened the door, having left my parcel on the doorstep. He gave me a wave as he headed back to his van and was off before the door shut. It must be really hard for delivery men and women these days, working such long hours and with tight schedules to keep. The parcel contained a used tripod head I'd bought from WEX in Norfolk two days ago. It's a bit scuffed in places, but is a solid piece of kit, better quality than the one I was going to buy in Glasgow. Best of all, it cost a fraction of its value when new.
I made our breakfast while I watched two blackbirds, one cock and one hen, having their early morning bath in the garden. Took the breakfast back to bed and we read for a while, waiting for the day to brighten up. I'm now on my second last Slough House book, having finished "To be taught if fortunate". It got four stars Hazy because of the ending and because of the inclusion of 30 pages of her first "Wayfarers" novel. Thirty pages too much padding.
After our dragging ourselves out of bed and having a cup of coffee, Scamp went out to tidy up the garden and I took the Sony out for a walk in St Mo's. There was blue sky for a while and even some sunshine, but I had the feeling the weather just wasn't trying too hard today. Nothing really struck me as interesting enough to make a PoD.
No lunch today, because we were heading out later in the afternoon for a late lunch at The Cotton House in Longcroft. Since we were booked for 2.30 we were eating off the a la carte menu instead of the lunch menu. We didn't mind, because we realise that the lunch menu is a sort of loss leader, but the a la carte is where they make their main profit. Also, there would be things in there we'd never had before! as it happened we didn't end up being all that adventurous. Scamp had Thai Fish Cakes for starter followed by Chicken Chop Suey with Fried Rice. I had Gyoza Dumplings as starter and then Salt and Chilli Chicken with noodles. Once you throw in the Prawn Crackers, this was a fairly substantial lunch and one we both enjoyed.
Drove home into a beautiful sunset that would have made an excellent photo if only I had brought one of my multitude of cameras. Besides, we'd had a lovely afternoon and it would be a shame to waste it by boring Scamp to tears with me wandering around taking sunset shots.
I'd ordered an adapter to allow the tripod head I'd received this morning to fit onto my tripod. It hadn't arrived when we got home and when I checked, it was due to be delivered about 5pm, just about the same time the Tesco order was due to come. You guessed it, they arrived at exactly the same time.
Just to test out the combination of tripod + adapter + tripod head + Sigma 105mm macro lens, today's PoD is an Alstroemeria flower taken with a 4 second exposure at f8. It's not brilliant, I know, but it shows the combination works and it's a lot better than any of the shots I took this morning. That probably tells you just how bad they were.
No plans for tomorrow.