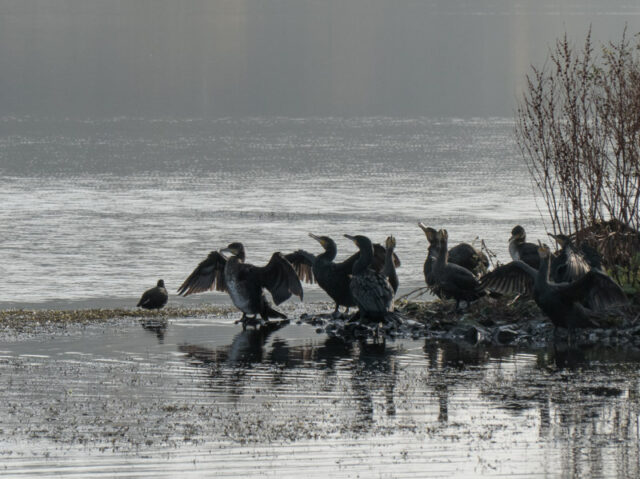 It was a foggy start that faded to a misty morning.
We had thought of going in to Glasgow today but we waited too long for the mist to clear. Eventually we decided on a walk and if you're having a Saturday walk it should be a proper one, so this one was a walk around Broadwood Loch.
We set out with our usual walk down to the stadium and I managed to get a 'one in the bag' with a few shots of some mushroom/toadstools. Crawling around on the grass with your bum in the air is what gives photos a bad name. We chose to extend our walk to include the loch too.
Although I had one in the bag, the PoD was some cormorants on Cormorant Island on Broadwood Loch stretching and drying their wings in the feeble sunshine. I needed a long lens for that and the Sony can't quite manage that … yet. I had to resort to the tiny sensor of the Teazer 90, but it didn't let me down. It's the best camera in the world. The one in your pocket. The rest of the walk was just ok. Mainly because the sun was on our backs and walking into the sun is always more interesting, photographically.
Dinner was meant to be roast duck legs, but someone forgot to check that they were fully defrosted and we had pizza instead. Hopefully duck legs tomorrow. I couldn't possibly say who was responsible for the oversight with the frozen duck legs, but you know it was me. Numpty.
We had a wee dance tonight to practise our three jive routines with a couple of successful attempts at quickstep. It was partly to revise our jive and ballroom skills(?) and partly to celebrate Joe Biden's win over the other Donald.
Not a bad day at all. Hopefully another one tomorrow.