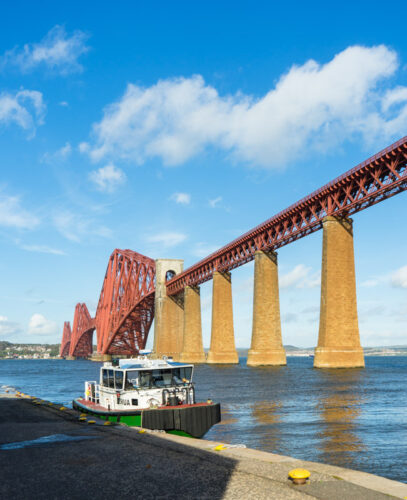 It was all that the weather fairies promised and we made the most of it.
So where would we go today? East or West, what was best? I chose East and Scamp refined it to South Queensferry.
We arrived there just after midday and walked down to the pier after finding a parking place on the hill leading out of the town. Cold blustery wind blowing down the estuary from the west. It might not look it from PoD but that was in the lee of the wind. The other side of the wall it was a very different picture with waves crashing over the sea wall.
We walked into the town proper from the harbour, passing a dozen or so folk fresh from a wedding ceremony at the Registry Office. They looked cold and unconvinced this was the best day of their lives. I couldn't blame them. Walking along by the estuary in those "peery heels" as my mum would have described them with a gale blowing behind them couldn't have been fun. One of the bridesmaids had decided that bare feet were better than wearing the uncomfortable posh shoes she was supposed to wear, and who could blame her?
I think the walk along the Main Street truly brought home to me the misery that Covid has caused to small communities. Shop after shop with either 'Closed' signs or 'Everything Must Go' in the window. Tiny wee ice cream shops reduced to selling tea and coffee to make some money, because realistically, who wants ice cream when it's nearly November? Not one pub open. Not one restaurant open. I could almost hear the bell tolling the death knell of tourism in Scotland.
To cheer us up and to provide lunch, we had a portion of chips and a slice of really good tray pizza from a wee chip shop that was the only one doing a roaring trade on such a cold day. We sat on an uncomfortable seat eating the chips while we watched the waves crashing. The sun was shining, but the wind made it bitter cold. However, we were out of the house. The weather was dry. The sun was shining from a blue sky and we had chips. What on earth is wrong with that?
We drove home by a circuitous route provided by me and the sat nav. Eventually reached the motorway and basically came back the way we had gone a few hours earlier.
PoD was the view from the pier. No sketch yet because it took me too long to decide how to interpret 'Ominous' and because the gin was too strong. I'll play catch up tomorrow, hopefully.
Rain predicted for tomorrow, so it will be a stay at home day I think. Still, we did get out in the sunshine today.