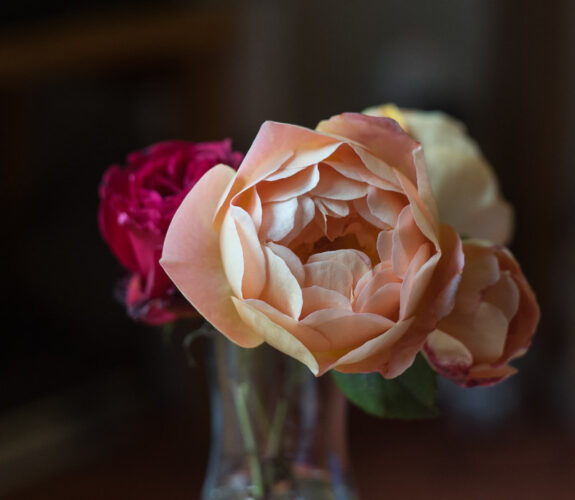 It was obvious from early morning that today was going to be wet.
Another of those days when the rain was heavy and continuous. There was no point in going out, far less travelling a distance. We just contented ourselves with staying at home, but were buoyed by the news that Nick the Chick wasn't going to put us in Level 4 which is almost a total lockdown. It appeared at first that we'd be allowed the right to roam across all the Level 3 regions, i.e. all of Central Scotland. Now it looks like we will be restricted to travel in North Lanarkshire. That wasn't in the original bill, but that's what it is now. She, the witch, is also warning that all of Scotland may go back into lockdown. Isn't she just a bundle of fun?
The furthest I got today was down to the shops for stuff to make tonight's Thai Fishcakes. I'd intended walking down, but swiftly changed my mind when I met the wall of water falling from the sky. That's what we buy a car for, to drive to the shops in, instead of getting soaked. So it was down to the shops, get the essentials (and a bottle of wine) and get home.
The Amazon man had been when I was out for that 15 minute jaunt and he'd brought me another adapter. This one takes old M42 (i.e. ancient) lenses and allows them to work on the Sony A7. The lens in question is a Helios 58mm f2 that used to be on the front of a Zenit EM that may or may not have belonged to JIC. If it was yours JIC, I hope you don't mind me borrowing it. This adapter cost half the price of the Nikon adapter and feels a lot more solid. I used it to take today's PoD which is the last of Scamp's Lady Emma Hamilton's from the back garden. I was amazed at the quality of this camera / lens combination. Old Tech meets New Tech, indeed.
Thanks for the email JIC. The video on the website was just at my level. No big words, lots of easy to understand graphics and nice colours. I approve. Just a pity you didn't get a mention.
Message for Hazy. The Big Scottish Book Club, has guests including Neil Gaiman who will be discussing The Graveyard Book. (Sunday 1st November 10pm BBC Scotland. Also available on iPlayer) If you can't get it, let me know and I'll try to 'obtain' a copy.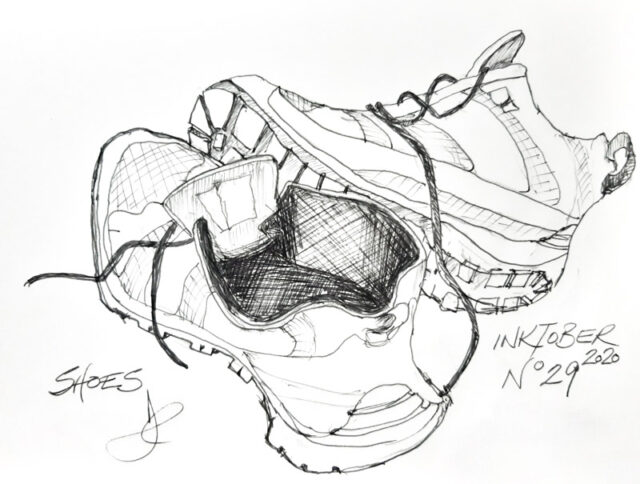 Today's prompt for Inktober was Shoes. I decided to rebel and sketch boots instead, my Merrell Moab boots. Like I said on Flickr:
Ok, they're boots, not shoes, but arguing about that is just splitting hairs. Merrell Moab boots. Really comfortable and as waterproof as blotting paper. Goretex? Don't make me laugh Merrell.
Tonight it's getting a bit windy, as was predicted by the weather fairies. However, the wind is supposed to blow away most of the rain over the night, leaving us a clear, dry day tomorrow. Then more wet stuff arrives on Saturday. Hoping to get out somewhere (in North Lanarkshire only ;o) for a wee run.