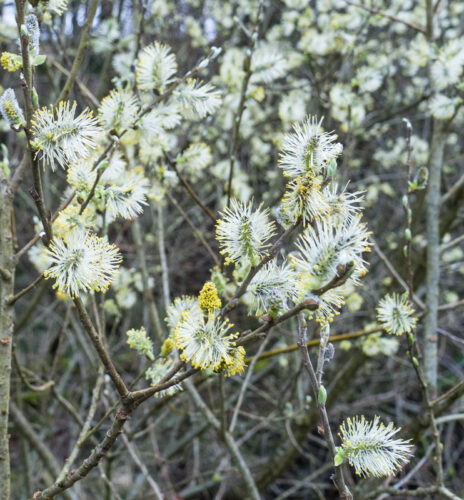 Not the most interesting of days. Dull grey morning with the promise of rain later.
Spent most of the morning searching for a paintbrush. Arty paintbrush, I don't bother much with the decorating ones these days. Eventually found it in the last place I'd look, where it should be with a load of other brushes in a cup on the wardrobe. That's the thing about putting stuff away after you've used it, you have to remember where 'away' is.
I eventually dragged myself out for a walk to the shops. Instead of going the direct route, I walked down the path Scamp and I had walked yesterday, hoping to get another view of the deer. Unfortunately the deer had other places to go today. What I did find was a whole tree's worth of catkins. I've never seen so many all out together. A small section of that made PoD.
Back home I began baking. Yesterday we had panna cotta for pudding. It was meant to have a tuile on top. A round wafer thin biscuit curved into a cylinder. Tuiles need to be very thin, so I'd watched folk making them on Monsterchef and they scrape the mixture over a template to get the initial round biscuit batter onto the greaseproof paper. In the morning I'd made these templates. Now I was going to see if they worked. Surprisingly they did and although the baking process was a bit hit and miss, we had a tuile each with tonight's panna cotta. I've learned what my mistakes were from Scamp and will try again soon. Ingredients were:
Soft Butter
Icing Sugar
Plain Flour
The whites of two eggs (sorry Hazy)
All the above in 50g quantities and mixed in that order. Bake for 4mins or so at 180ºc, just in case you fancy trying it.
Scamp had spent the afternoon and some of the morning making Carrot & Lentil Curry. It was very good too. We both agreed it was quite spicy hot, but Scamp was adamant that no chilli powder had been added, just Garam Masala which isn't spicy. A mystery.
Spent the evening trying to work out how to get a video to play using chapter marks in any of Win 10's video players. Eventually gave up, installed VLC which, although clumsy, did work. I hate Windoze.
It's raining quite heavily now, but it's forecast to be clear tomorrow for a while. We may go somewhere for a walk. If we leave it too late there is the chance of 'wintry showers'. Brrrr!