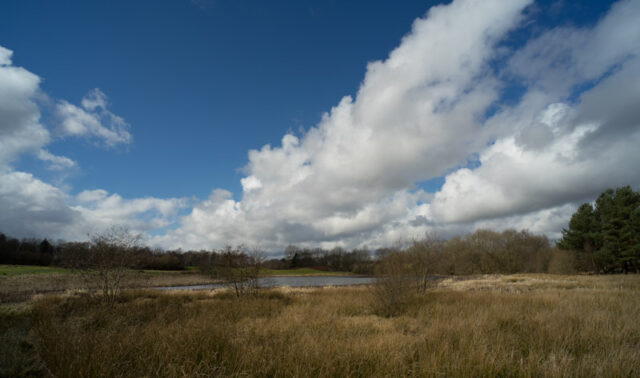 Also rain, sleet and hail in varying quantities, because it's Scotland.
It was raining when we woke and it had been the same during the night, so there was no rush to get up and go out. However, later in the morning the clouds part, the sky was blue and the sun was shining. We went shopping.
We went via St Mo's so I could get some photos. Today I was toting only the 18mm very wide angle. For once it was the right lens to have. There were some lovely cloudscapes over St Mo's pond and I grabbed a few until the camera reported "Disk Full". Aha, but I'd come prepared with a spare 32GB card. Plugged it in and we were in business again. One of those shots became PoD. Hardly any editing needed, almost straight out of the camera.
We walked out of the park and across the road, then down the way we'd walked on Wednesday and I'd walked yesterday, but still no deer. That didn't matter, I was sure I had a PoD and that's more important than the flighty deer. Walked round to the shops, just as the school was coming out for lunchtime. Thankfully they are at half capacity until after the Easter Holidays, when the whole contingent will be invited to return to lessons. That's not to say they will all come back. I don't see some of them ever returning after almost a year's freedom. Feral, that's what they'll be. The new cavemen and women.
Got what we went for at the shops and came home for lunch. I took a few close up shots of some alstroemeria flowers, just to bolster the collectio. Later in the afternoon I got itchy feet and went out for a late walk in St Mo's and saw a skein of geese heading north. Then as one, they turned and flew west, losing altitude all the time. They were heading for a large open field near Moodiesburn where they often break their journey north in autumn and south in spring. Another photo opportunity.
Came home to the news that Alex Salmond has announced that he's standing for the Holyrood elections with a new party he's created called something pretending to be Gaelic. What a Wally! It's so transparent what he's trying to do – to screw up Nic the Chick's plans for world domination. Who would vote for that eejit? Then I think, but what about Trump? Millions voted for him. Maybe … No, that's unthinkable. Isn't it??
The remains of the Carrot & Lentil Curry for dinner but the panna cotta was finished as were the tuiles. Never mind. Hopefully there will be more some day.
Tomorrow the weather looks much the same as today, probably even worse. We may get out for a walk.