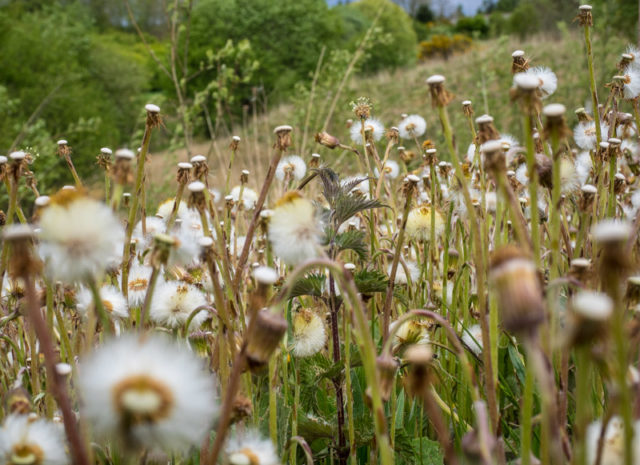 Saturday used to be The Weekend. These days the week has no beginning and therefore no end. The only thing that makes the weekend different from the rest of the days is that the individual weekend days start with an 'S'.
We went for a walk today. That's where the PoD came from. Down to Broadwood, avoiding the loch, because everyone was out there walking their dogs or cycling in a wobbly way along the footpaths in a very un-social distancing manner. Instead we walked down past a soakaway 'water feature' and back up underneath the Craiglinn Roundabout and on to St Mo's by way of the now well worn path behind St Mo's school to the actual St Mo's. A cursory inspection of the 'pollothywogs' (tadpoles – 'Some Fishy Nonsense' poem by Laura E. Richards). We walked home. It was cold for most of the walk because of the wind, but when we were sheltered from that wind it was quite warm.
Met the window cleaner when we got back home, just in time to pay him with the last fiver we had! Spent a long time reminiscing about times at CHS in 'the olden days'.
I wanted to pot up a couple of the chilli plants that have been growing on the kitchen window sill since October last year, in a different world. They look a lot happier now with room to flex their roots. Scamp was busy too cutting and pruning. On the way home we 'found' a few cuttings of Berberis and she planted them too. I remember my mum pausing by a wall when we were out walking in the summer and 'finding' some cuttings of something she fancied. It must be a family failing or just a family 'finding'.
Dinner tonight was Chicken Thighs on a bed of peas and leeks, with Jersey Royal potatoes. Very nice and even better because it's a tray bake, so very little prep and a one-pot meal.
A little dance practise tonight.  I chose ballroom, so we did Waltz1, Waltz2, Quickstep and Foxtrot.  Then Scamp wanted to practise a new sequence dance, the Melody Foxtrot.  It looked very complicated, but she assured me it wasn't.  I'd tend to disagree with that, but we did manage to get it right a couple of times.  Maybe part of it will be in muscle memory by the next practise session.
PoD was a field of Coltsfoot Daisies setting seeds with a nettle in the middle. No reason for it, I just liked it. Today's sketch was a metal whisk. What a dull thing to draw, but it made Lockdown Library No 34.
Tomorrow we have no plans and it's weekend day number 2 which would make it Sunday!