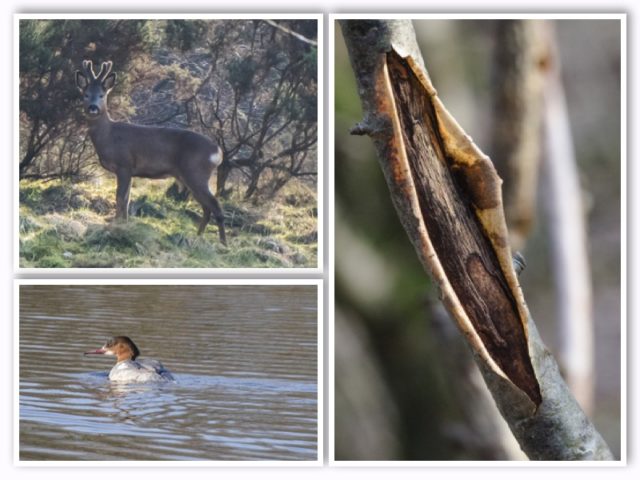 The good news was Scamp was much better when we woke.
I guessed she would be after a good night's sleep, but was relieved to hear that she hadn't been shouting down the ceramic telephone during the night. Had breakfast and sat in the living room soaking up the early spring/late winter sunshine when Scamp asked if the WiFi was off. I was doing my daily sudoku at the time and hadn't noticed, so I checked the modem and both send and receive lights were off. I unplugged it to reset it and only when I was plugging it back in again, noticed that the light on the multipoint connector was off, so was the standby light on the TV. Oh dear, looks like there was a power outage. However, when I checked the junction box, I found that the RCD (Residual Current Device) had tripped. That usually means that some electrical item has gone faulty. I started pulling fuses from the box to try to find what was causing the fault and soon discovered it was the downstairs sockets. Went round switching them all off and then found that the culprit seemed to be the one connected to the fridge. That's when the RCD tripped again. So it wasn't just the fridge. Switched everything off and reset the RCD. It didn't trigger. Started switching everything on again and unbelievably with everything on including the fridge, the RCD didn't trip. Weird. Five minutes later the RCD tripped again. Weirder still.
Phoned Fred P who used to do PAT testing in the school to get his take on things and he told me not to just switch things off, but to physically unplug them. Did that and then plugged one thing on at a time. With nothing plugged in the RCD was fine. As soon as I plugged something in it tripped. Then it would trip with nothing plugged in. Fred phoned with the number for an emergency electrician he'd used in the past. I phoned and he came out in the afternoon. His first question was when I'd last tested the RCD. I told him I didn't know you had to test them. Well, apparently you have to. There's a note on the junction box to say so and he showed it to me and also showed me how to do the test … properly. Once every month or two he said. He waited while I connected everything up and gave it a good 15 to 20 minutes with everything powered before he left us. It cost £30 for the call-out, but it was worth it for the peace of mind. So the moral of the story is if you have a RCD switch and a test button, and if you have a little label on it telling you to test it regularly, do what it tells you. That way you won't be staggering round the house like a loony trying to find all the sockets to pull.
After that I went for a walk to calm down and got a few pics of a young buck (PoD). Also got some of a goosander and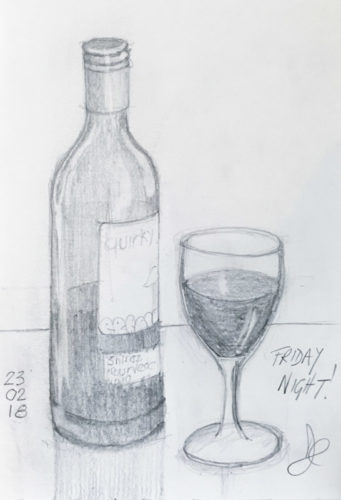 a torn bit of a tree. Don't ask why that last one. I just liked it. Saw the little white spot ladybird again, nestled in some moss. Stay where you are little ladybird, cold days are coming back.
Today's sketch is just a bit of pencil rendering. It's done and on time.
Tomorrow, let's hope there are no more disasters. We have no plans.