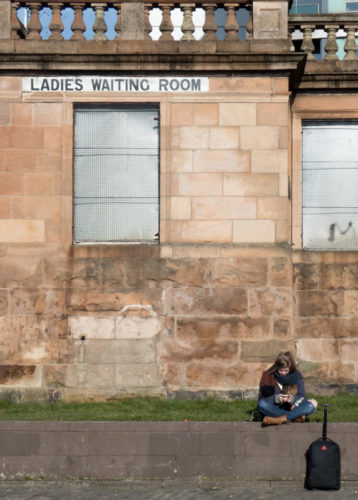 Bright day, so let's head for Dunfermline on the bus, we said. They do say disasters come in threes, right?
Went for the bus and missed it by about three minutes. Waited in a cold wind for the next one which luckily was due in ten minutes. After a mystery tour of Condorrat and Westfield, thanks to roadworks, we reached the town centre only to find that that Dunfermline bus has been discontinued. Oh well, nothing for it but to head in the other direction and go in to Glasgow … again. We were in on Sunday for Sunday Social. Back on Monday for dancing, on Wednesday afternoon for dancing, and again on Wednesday evening for more dancing. I was in on Thursday to get my hair cut and here we were again on Saturday. We might as well move in to Glasgow for all the time we spend in our own house. Not a happy bunny, I harrumphed behind Scamp into Nero for a coffee. When we came out the black cloud had lifted. The sun was out and we had said that we'd go for a walk in the sun, so that's what we should do. With a lightening heart I walked down Bucky Street with Scamp and even the Bastard Drummers couldn't dent my new good humour.
We walked right down Bucky Street, past St Enoch's (it is St Enoch's. I heard a wee wummin' telling her pal on the phone to meet her at St Enoch's and you don't argue with wee weemin' in Glasgow.) We walked on to the Clyde Walkway, stood for a while then walked downriver under the bridges and that's where I saw the PoD entitled "Lady in Waiting". As Scamp said, it couldn't have been any other title. On under more bridges until we came to the Tradeston Bridge, known to Glaswegians as "The Sqiuggley Bridge". Why do designers and Cooncil busybodies come up with names for bridges when they know fine well the general populace will christen it with a better name. Just build the bridge and wait for its name to appear. Saves time and money.
Back across the King George V bridge and up to Pulcinella for lunch which was decidedly second class. Not just compared to Tuesday's food, just compared to anything I could have made. Not their finest hour.
After our lunch we walked up to Sausage Roll Street. Me to the book shop. Scamp to Bonmarche. Neither of us came out with anything. Came home on the fast bus and made a couple of coffees to warm us up when we got in.
Today's sketch started out as a doodle and then this strange wee man appeared.
No plans for tomorrow. That's not true, maybe I'll get my bike out and see if it still runs. Yes, I know I said I'd do that before, but the sunny skies are bringing that day closer.