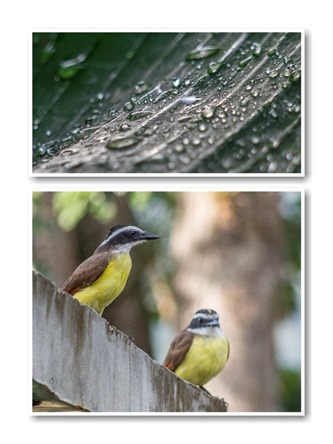 It rained overnight although neither Scamp nor I heard it.  We were well into dreamland at the time.  However, the raindrops on the myriad of leaves in the garden gave me a chance to grab some early photos.  We had breakfast in the garden.  Back home in February, if you tried that,  the men in the white coats would come to drag you away.  Either that or the paramedics would drag you away to try to cure the hypothermia.  But this is not Scotland, so it was a comfortable breakfast.
Later, Jaime drove us up into the Northern range again to visit Mount St Benedict monastery where he had worked as a teacher some years ago.  The road there was one hairpin bend after another.  It was a bit like climbing up the Quairang but with about five times that number of corners.  The view from the top was worth it.  A beautiful panorama right over the centre of Trinidad.  We met the some of the monks and got a quick tour round the buildings.  With its remote situation it makes an excellent retreat centre if you can drag yourself away from the views.
As Jaime drove us back down and through the university grounds, Madeleine phoned up an order for lunch which we picked up on the way home.  Lunch was Indian with Curried Mango, Channa and Aloo, Pumpkin Curry, Curried Chicken, Spicy Bodi beans and Daal.  All mopped up with Paratha.  Curried Mango was my favourite followed closely by Spicy Bodi and Pumpkin Curry.
After our carry-out lunch, we were far too full to do anything strenuous, so we lazed around the garden for a couple of hours.  We watched two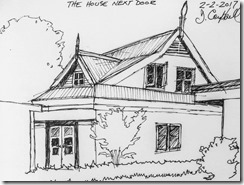 iguanas climbing the mahogany tree in the park behind the garden.  I sketched the new house next door.  There were too many different angles to make it look realistic and I got the perspective wrong on the door.  Never mind, it's all a learning experience.  I finally after about three bum steers got it posted on FB in 28 Drawings Later.