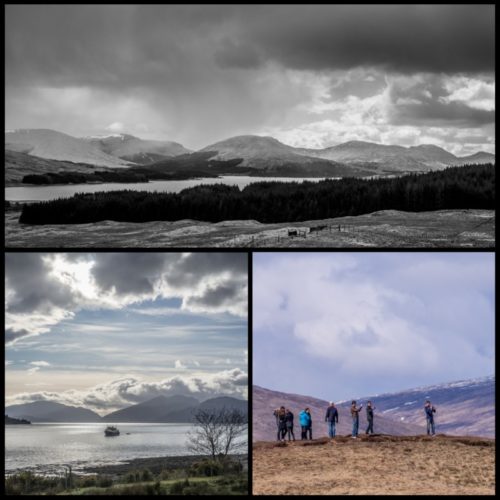 After a lazy morning (well, yesterday was a bit frantic, so we are due a lazy morning) we headed off just after midday bound for Ballachulish in Lochaber.
I just had to stop on Rannoch Moor to get one last time lapse. Yes, I know it's old hat now, but just one more wouldn't hurt. After 15 minutes I had my 10 seconds of video and 100 frames of high quality RAW files I'll never use again. Such a waste and such a hammering the camera shutter takes making those 10 seconds of video. The good thing about travelling with two cameras is the ability to wander around taking shots while you're waiting for the 100 shots to be taken. Saw a wee lizard on the moor. Didn't realise you got them this far north. Maybe it was on its holidays.
Continued up to Ballachulish and booked in. As it was the end of an Itison deal, the hotel was full, but Scamp had pre-booked and also upgraded to a loch-view room with, as it turned out, a jacuzzi bath! Unfortunately neither of us could be bothered to try it out.
Went for a walk to Bishop's Bay, a place we'd been the last time we were here, back in October 2015. The scenery and views were just as spectacular as last time. Time for dinner when we got back. Food was good, but our supercilious waiter needs to work a bit on his people skills. Scamp ordered scallops and he assumed she was ordering for both of us! What? Does his mummy order for him when he goes out to a restaurant. I had a burger which was fine and Scamp had a seabass fillet, but I've seen bigger sardines. She decided to have pudding and ordered sticky toffee pudding with ice cream. I ordered gin and tonic pannacotta and after leaving, he returned to ask if I wanted ice cream or cream with it. I was a bit bemused as you don't usually have anything with pannacotta, but settled for the cream. I needn't have bothered. It came as it was without an accompaniment and also without any semblance of G or T in its flavour.
I'd just remembered that the hotel had a lovely microbrewery IPA and we went through to the bar after our meal to see if it was still available. There was the pump with the River IPA. Unfortunately, there also was Mr Personality, the original dumb waiter.  Scamp had a G&T and I asked for an IPA. The scoosh from the tap signalled that the cask needed changing. "It'll only take a minute" he said. He was right. It only took him a minute to come back and say "mvbemdm fnsn dm" or something like that. He certainly speaks fluent Mumble. It translates as "I don't know how to change the cask".  I asked for a pint of the River Blonde beer instead. I'm still not sure if he used a clean glass or the dirty one from the aborted IPA, but the beer was boggin'. I had two mouthfuls and left it on the table. The last time we were here there certainly was Service With A Smile. This time was different. Maybe we were just unlucky or maybe this is a turn in fortune for the Loch Leven Hotel. Only time will tell.
Hoping to head south via Oban tomorrow. Also hoping for decent weather, much like today's.