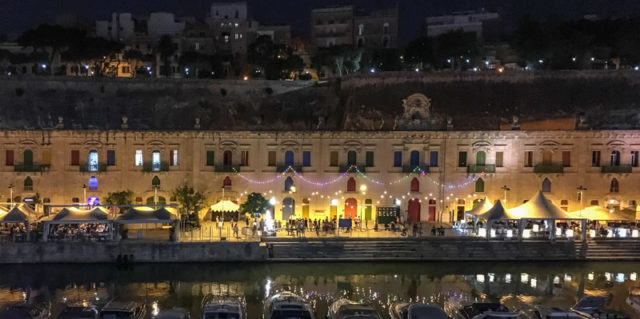 Today we woke to the sight of the Giraffe Crane. I think it had missed us.
After breakfast we walked along the front to the super-fast glass elevator that took us up to the viewing platform and the gun battery. We weren't very interested in the gun battery, but we took some photos from the viewing platform, just for the sake of it.
Then we walked into the town. It looked a lot like the town we'd seen two years ago, but some things had changed. At the top of the main shopping street there was a fountain and an open tiled plaza where there had been a building site before. Also two very photogenic sets of steps were now complete where they had only gone half way up the last time.  Beautiful light on the sand coloured stone.
We stopped at a cafe for a drink and the owner(?) told me after a joke that he had been married for 47 years. I told him he was beating me by a year. We had a laugh. I had a beer and Scamp had a fresh orange juice. We paid our bill and said goodbye to the man with another joke.
We wandered round some more and Scamp was looking for somewhere for lunch. She found a little backstreet restaurant called D' Office Bistro. I suggested Bruschetta to share as a starter and then we both had Chicken Caesar Salad. Scamp found they had a bottle of Rosé d' Anjou on the menu, so we had that. The whole thing was gorgeous. Walked away feeling happy.
I wanted to buy some paint, Burnt Umber which is a dark brown that I use a lot. After just one wrong turning, I found the art shop I'd been in two years ago and got a tube of the paint and also a pan of Vandyke Brown which looked good. <I know this is nonsense to you, but it's a reminder to me>.
I also wanted a cheap Malta tee shirt and Scamp wanted a coverall for when the sun gets too hot. I think the woman selling them diddled us, but that was probably ok. I needed some coffee too and found it in a wee shop down a side street. Next on my list was some electrical insulating tape and jewellers screwdrivers. The tape is to cover three little clips that keep stabbing into my fingers on my sporran. The screwdrivers are to fix the legs on my 'designer' glasses which are the only pair I have left. My optician's glasses broke a couple of days ago and refuse to go back together again. Hopefully I'll have a pair to go back to from Simpsons. I found a wee ironmonger's shop, again, down a side street and he had exactly what I wanted. Ironmongers shops are like hen's teeth. When did you last see one? The owner was another character. He told me a story about his trip to Scotland and how he just had to get out of the car and stare at the scenery near Aviemore. He told me a good joke he read on a tea towel in Edinburgh too. Scamp reckons he'll dine out on the story about the Scotsman who emptied his pockets and found that he'd just the right amount of money to pay for his tape and screwdrivers.
Back at the ship and in the duty free shop we took the risk and bough a bottle of gin, hoping we'd hit it lucky and get it past the guards. Got there and the scanner was covered up. Result! We will drink gin after all!
Scamp wanted to go back ashore to buy a wee dish she'd seen last week and we had a drink too. Scamp had a Rum 'n' Coke and I had a very stiff Margherita. I could hardly walk back to the ship.
We dined at The Beach House tonight, which is the starboard side of Smash 'n' Grab by day. My steak on a stone was good. My Hush Puppy starter tasted like … Well, let me put it this way, a pair of Hush Puppy shoes would have more flavour. The Key Lime Pie thing was much the same. Nice sorbet, but the rest had no taste. Through the middle of the meal we had to listen to boring Cap'n Bob's lifeboat drill and I noticed that either he has a repetitive speech problem with some words or else it was the same speech as last week played back.
Tomorrow is a sea day with new dance instructors.