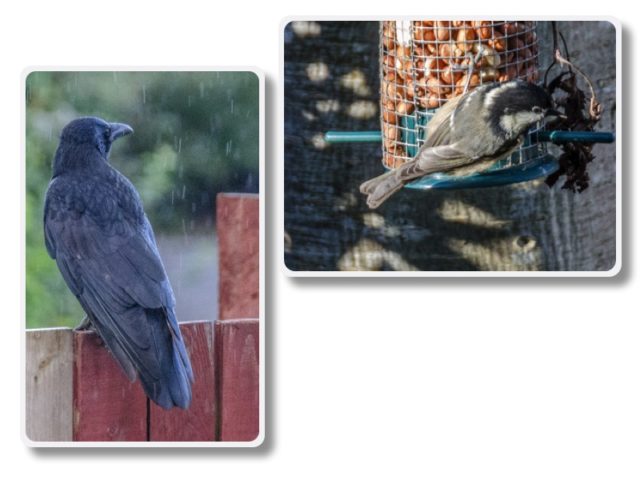 Sitting in the STUC building after another slow run in to town. Not much fun, but at least I'm in a better mood than last week and more prepared for the slow drag.
Physio said there was a definite improvement again this week again, but he still made me in to the human pincushion. Three weeks until the next appointment.
Finally got yesterday's Flickr uploaded this afternoon. To the eagle-eyed, congratulations if you noticed the swap of the Inktober drawing.  Once I saw yesterday's on the computer, so many things were wrong with it, too many things in fact, so I did another, more calculated version in pencil first and then with ink on top.  After that I rubbed out the pencil guidelines.  Today's Inktober isn't done yet,  I'll do it later and add it in to the blog when I get the chance
Today's shots were just grabbed when I was making dinner. The coal tits must have been waiting for the feeder to be refilled because they were down as soon as the back door closed. The crow just looked so depressed sitting on the fence in the rain and I managed to capture the raindrops too.
[Later that same day}
Ok we're home now and Kizomba tonight was equally good, although it was moves we'd done before ie. Forward Travel with Cha-Cha and Ladies Saida.  Kizomba seems more like Ballroom dancing than Salsa or Bachata to me because you have hand movements and foot steps too and they must co-ordinate.  I still find that difficult, but I'm sure it will get easier with practice.
It was a day of mixed fortunes weatherwise.  There was sun, it was cold, there were cloudy spells and rain showers too.  A wee bit of everything except (whisper it) snow.
Pictures are up on Flickr, Blog is written, Mosaic is in place.  Just a bit of sketching to do and we're done! So, here it is.  Hope it was worth the wait.  Hands are fiddly to do, but they're patient, they don't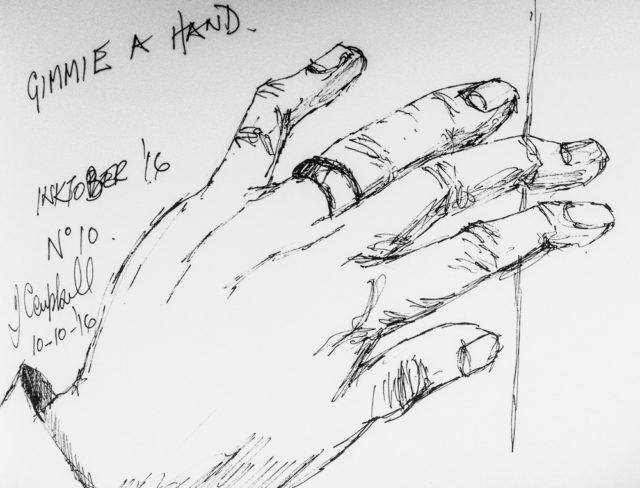 move unless you ask them to.  They're always there and although they look like five limbed octopi or spiders, if they're drawn badly ( I don't think this one's too bad ;-\ ), they're always happy to sit for another sketch … or five.  I even got the twisted knuckle in my pinky to look like it is in real life.  Such a pity I couldn't spell Inktober!