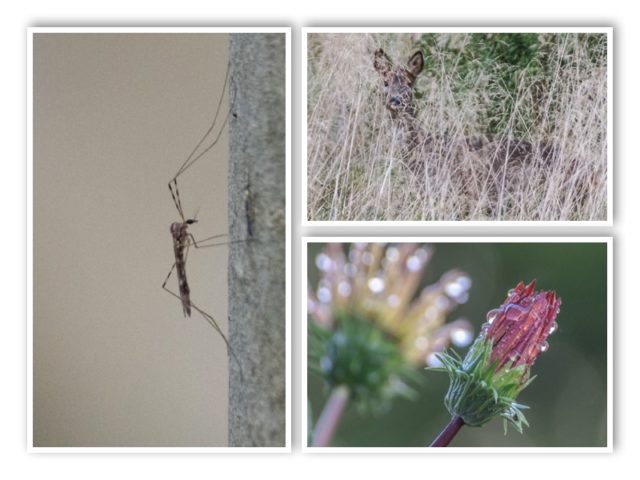 A strange title, but hopefully all will become clear – like the clingfilm 😉
Lazy start to the day, but that usually happens on a Tuesday after a busy Monday with two hours of dancing and an hour of driving, then preparing the photos, posting them and then blog writing.  I'm not moaning about, just explaining why we almost broke our self imposed rule of Up By Ten.  The light seemed to be improving in the morning and I grabbed a few shots of the Gazanias in the hanging basket with their covering of raindrops from the showers during the night.
What to do with the rest of the day?  We couldn't decide where to go, because we had decided we'd go out.  Dinner was sorted and we needed nothing extra for that.  It was finally settled when Scamp said we didn't have any cling film and that called for a visit to Lakeland.  Scamp also wanted to get some flowers to plant in my raised bed for some winter colour.  We could achieve both aims with a visit to Lakeland and Dobbies just outside Stirling.  What exciting lives we lead when our day revolves around Clingfilm and Pansies!
We came back from Stirling over the Tak ma Doon road.  Usually it's a scenic road with plenty of opportunities for big-sky landscapes.  Today heavy clouds had rolled in and everywhere was dull.  Oh well, I still had the pics of the Gazanias to fall back on.  Just to make sure, I went out to bother the wildlife in St Mo's when we got back.  Just missed Mr Grey, but he saw me and was off like as shot.  More snails up trees.  It seems that they favour Ash trees.  Disturbed a couple of deer and this time I got a shot I liked. One young doe ran when she saw me, then turned and watched to make sure I wasn't following, giving me the chance I needed to take the shot.  I don't know what kind of fly was on the tree in the other shot.  It looked a bit like a mosquito, but on closer examination, the head looks more like a Jenny Long Legs (Crane Fly).  Don't know.
Today's Inktober (Number 11) is of Monday's Daily Sudoku which was completed yesterday (Monday) and was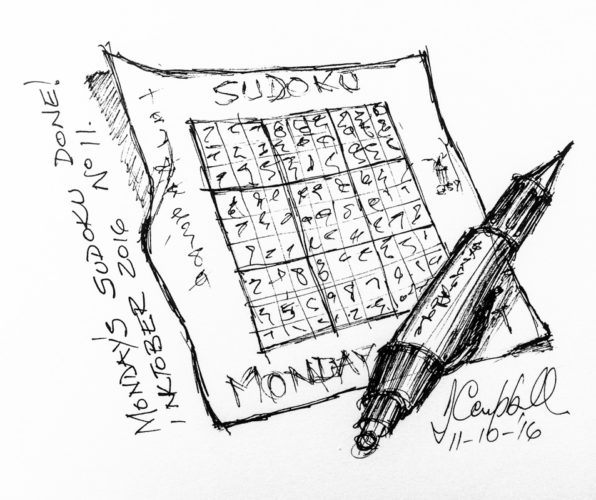 lying on the coffee table in front of me, so, like the hand yesterday, it wasn't going to go anywhere.  Fred P can do quick portraits or caricatures of people sitting near him in Costa and they always look like the subject.  I just can't draw fast enough to grab a likeness.  It's all about confidence I think.  Anyway, I'm happy enough with today's quick sketch.  Made some more fruit scones tonight.  I did think of sketching one of them, but they move off the plate too quickly.
Don't know what's happening tomorrow because we've got clingfilm now, so possibly no need to go out.  Jamie G our Salsa teacher is off on business tomorrow, and we don't know who will be taking the class.  It's not worth driving for an hour through Glasgow's Wednesday evening traffic only to find it's a, how shall I put this, less entertaining teacher.  Maybe we'll stay in and watch a film instead!