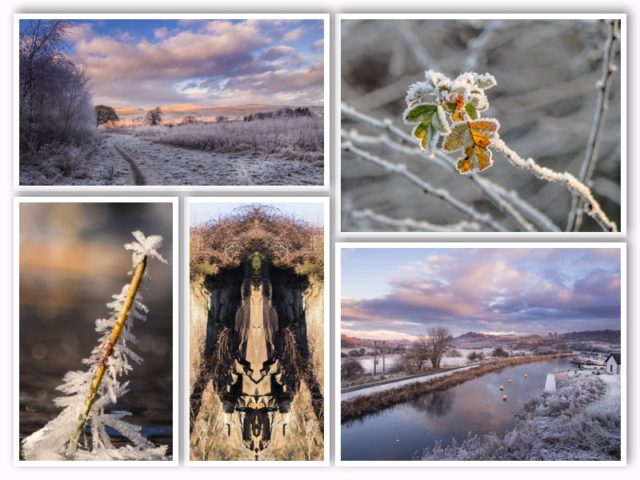 Today started early, too early.
I switched off the alarm before it rang at 7.30am. A quick breakfast, dressed and out to defrost and warm up the car (it was -7ºc), then we were off into Glasgow for Scamp's second routine hospital appointment in two weeks. There were warning signs on the motorway that things weren't good ahead. Speed restriction signs set for 40mph. That usually means a serious bit of congestion ahead. There was serious congestion, six miles of it at just at under 10mph. I decided on a change of direction. If I left at the Stepps slip, I could circumvent the congestion and go through the outskirts of Kirkintilloch. Bad move. As soon as I left the 10mph motorway, the slip road ground to a halt and the motorway speeded up, but it was too late to change my mind, the die was cast. Not to worry, we'd plenty of time in hand for such contingencies. Eventually reached the roundabout and headed for Kirkintilloch, then I saw the queue on that road and the blue flashing lights at the head of the queue. That explained the congestion. There was an accident at the next roundabout and it looked as if everyone was heading back on to the motorway we'd just left. There was nothing for it but to rejoin the queue on the motorway and follow the sat nav. After about fifteen minutes of 'taking the second exit' and 'turning left in 200yards', the computerized voice proudly announced, "You have reached your destination" which was a dead end next to a boarded up shop with two dead cars parked outside. Shouting "Oh no it's not" didn't seem to help, so I did what I usually do and followed my nose for about 100yds and found the sign directing us to the hospital. Got there with time to spare and it looked like everyone else had been held up too, because we sat in the waiting room for another half an hour or so. Scamp got seen and told everything is ok, come back in six months. After a cup of coffee and a scone, we made our way home. This time the sat nav took a totally different route, through the outskirts of Glasgow and we were were home in less than 20 mins.
Next thing to do was get the room sorted for Gems Christmas party, then I volunteered to go and collect Margie while Scamp prepared the food. I then vamoosed to get some photos. I drove to Auchinstarry and walked the canal. It really was like walking inside a Christmas card. Everywhere was white and clean looking. It was cold too, but I was wrapped up well, with hat, gloves, scarf and fleece lined Bergy jacket, but I could still feel that dry cold you get on really frosty days. I'm not sure what my PoD is. I think it might be the tilted Christmas tree, which is really a frosted piece of reed poking out of the ice on the flooded Auchinstarry quarry. Decided I couldn't hang around too long, because Scamp wanted me back for 3.30pm to take Margie back home. Managed that with a few minutes to spare.
Salsa tonight was good, mainly because we only had one new (impossible) move. The exercise was good.
Tomorrow I think I'm going in to Glasgow in the afternoon. Certainly don't plan an early rise!