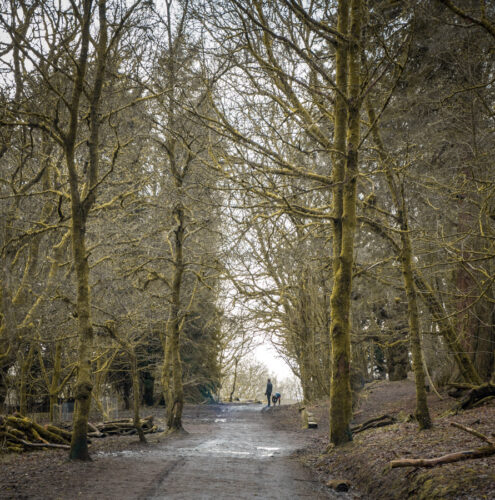 Today turned out a lot brighter than we expected, but cold at -3º when woke. There was no sense in wasting a dry and sunny day, so it was boots on and out!
Since it's just a week to go until the op, Scamp had discarded her lenses and was wearing the dreaded glasses. She decided she'd like to go for a walk somewhere different. I suggested Mugdock and that's where we went, by the long road, the wrong road. Well, it's been a while since we last drove there and it was a nice, clear, cold day, so a bit of sight seeing just added to the outdoor experience. That's my story and I'm sticking to it.
Finally, we got there and got parked quite easily. We walked round the castle and the loch and then back to the car. That sounds like a poor walk, but we covered about 10,000 steps, so it was a fairly decent ramble across boardwalks, muddy paths, frozen paths. The loch was still frozen when we got to it with the mallards sitting on the ice wondering what was happening.
When we arrived back at the centre, we had a roll 'n' egg for Scamp and a roll 'n' sausage for me. To wash it down we had what they called a Flat White each, but as Scamp said, you were unlikely to overdose on caffein after drinking it. It was more like a Babyccino! It went in the bin and we went to look for seed compost in the nearby Calder's garden centre. We couldn't find any so we drove to Dobbies and got a bag of the stuff there. From there it was the long drag home.
Dinner tonight was Sweet Potato Soup and then Pizza. Watching yesterday's Apprentice where Scamp's least favourite competitor was sacked. I too was delighted.
PoD was a shot taken up the main avenue of the estate among the high pines.
The prompt for today was Moon River, so this may need some explanation.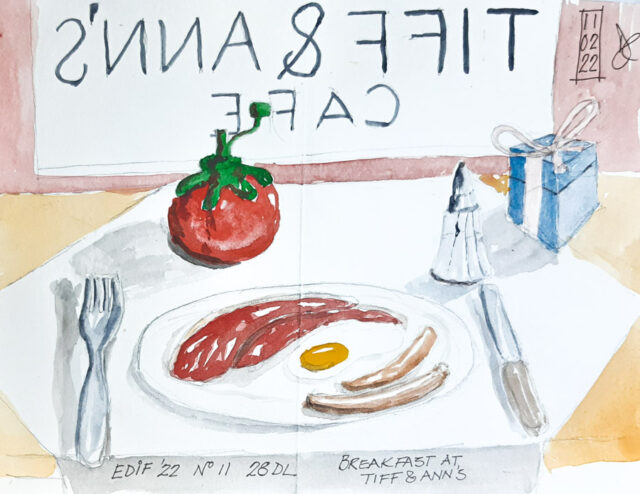 Moon River left me very little wriggle room, apart from painting a moody shot of a moon reflected in a river, and I have no idea what a 'Huckleberry Friend' is. Almost a fortnight ago I showed the prompt to one of my wife's friends who immediately said Breakfast at Tiffany's and my wife agreed. The only Breakfast at Tiffany's I'd heard of was a song by Deep Blue Something, but I guessed that wasn't what the ladies were talking about. Sooooo, I kind of turned it on its head and sketched a breakfast of sorts in a little cafe called Tiff & Ann's. That's what you see here. I added the blue box because apparently that's what Tiffany's is famed for, that and eye watering prices. I never like to make things too easy to understand. A big thank you to Sheila and Margie without whom I'd have painted a moon and a river and Huckleberry Hound!!
Tomorrow looks like rain, in fact the weather is practising for it tonight. We may go out if we can manage to get a dry spell.