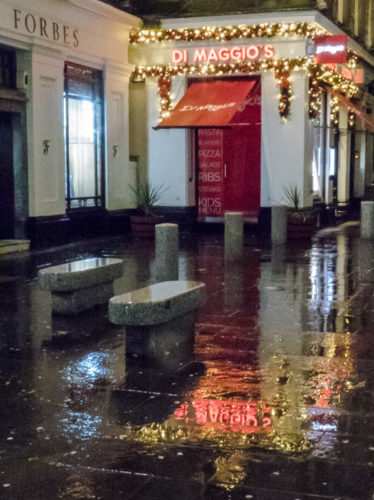 Woke up to -5.5ºc, but my weather app said it would rain by 2.30pm. Nah, I don't think so, somehow.
Spent most of the morning clearing up the back bedroom for Jackie. You might not think so to look at it, but you didn't see it before I started!
After lunch I drove in to Glasgow to BUY STUFF. It didn't really matter what I was buying, I just had to BUY STUFF. Well, that's the way it felt until I realised I'd just had a near miss with the Xmas shopping bug and decided to be a bit more pragmatic. While I was driving in the rain started, just after the predicted time of 2.30pm and walking down Bucky Street in the rain, yesterday's Christmas Card feel completely disappeared. This was back to business as usual. After managing to get all the things I'd come for (and a few more), I met up with Jackie off her bus from Skye and we drove home still in the rain.
Dinner tonight was Chicken Thighs with Leeks and Petit Pois (peas to you), from a Nigella. It was full of the gorgeous grains of green from the peas and the subtle mild onionniness of the leeks, but mainly the golden goodness of the chicken thighs. There, that's a better description in Nigella language!
Today's PoD is of the reflections in Exchange Square in Glasgow.
Tomorrow, it looks like there may be some snow in the forecast. I think I may be pastel painting while the sisters hit the 'Toon'.