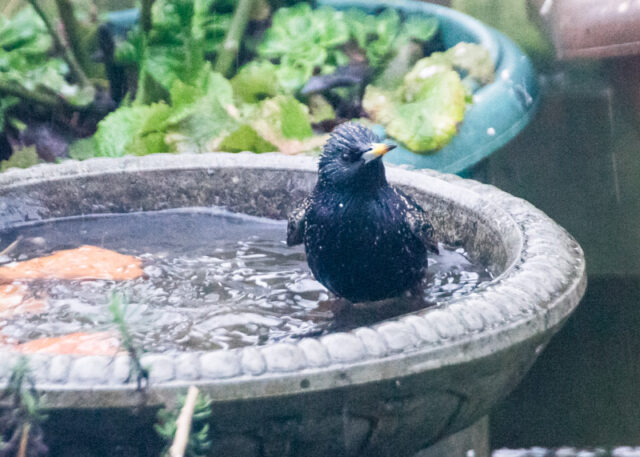 Well, actually I was out today. I took the bins out tonight, but that was it.
It was such a dull depressing day and then it started raining. Last night it snowed, just as we were going to bed, but you wouldn't have known it this morning. The thinnest scraping of snow on the cars was all that remained of the fluffy flakes that were falling just before midnight last night. The rain today soon finished even that off.
We had a new Covid reporter today. Sharon arrived just after 11.30 and we did the needful with the swabs, then answered her questions. Thankfully it was only raining today. If she had come tomorrow there's a good chance she'd have been covered in snow by the time we were finished.
Lunch was a rather tasteless Vegan Pizza from Pizza Express. Some things just don't work as vegan. Vegetarian, yes, but vegan cheese is a step too far. Afterwards we did think of going for a walk, but it was that horrible clinging drizzle and neither of us could think of a good reason for going out, so we each made a cup of coffee and sat back down.
PoD was a shot from the kitchen window of a starling having its daily bath. Shot through the window using my old 300mm lens on an adapter on the Sony. Not the best prospect, but the photo was useable and it worked, just!
I was nominated to make dinner tonight which was a Chicken Cobbler. The chicken was fine, but the cobbler was a bit stodgy. Lots of work to make and lots of chopping in preparation. Might try it again with some suggestions Scamp made. I can see them working.
Today Joe Biden became President and Donald Trump left under a cloud. Fred sent me this photo. I think it sums up the day perfectly.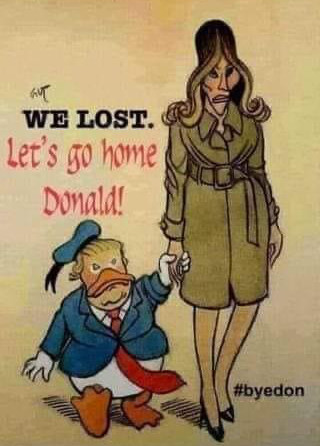 We're expecting heavy snow during the night and the quantity of that snowfall will determine what we do tomorrow.