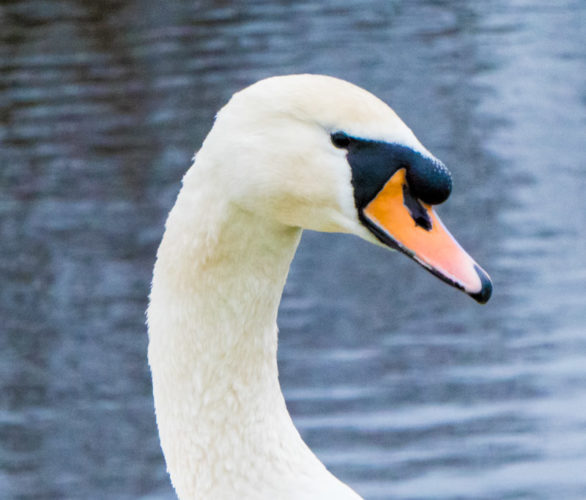 Dull, but at least it was dry.
As predicted, bedtime was early this morning rather than late last night, and drink was taken. Therefore, it was a late rise this morning. After that a rather lazy start to the day with no attempt to achieve the required 10,000 steps or even the 250 steps per hour. The fact that I was moving at all was an achievement in itself. Scamp, however, was much better today with very little sign of the pains that had been bothering her for the last couple of days.
After a frugal lunch (piece 'n' bacon for me and a piece 'n' egg for Scamp), we went for a leisurely walk around 'easy' St Mo's. We stuck to the new path and I took a few photos, but only a few were worth considering as PoD. The best of a bad lot was the swan's head. Even that was poor. Hopefully there will be better light tomorrow, but I'm not too confident about that.
<Technospeak>
On the computer front, the bastardised macOS Sierra was still working on the old MBP, but it took a terrible time to boot up and I'm still not sure what exactly that patched OS is doing in the background. With that in mind I decided to do a clean install of El Capitan and to remove the ancient hard drive that's been draining the battery for years. The reset worked well and the boot time to El Capitan is much reduced from that of the slightly illegal Sierra.
My Lightroom 6 is an upgrade version and needs proof of purchase of a previous version to install. That proof is the serial number for the original version, in my case, version 1! Today I found it at the back of a cupboard, so I can have Lightroom on my old MBP and a legal version too, because Adobe are very aggressive in their searches for illegal software. That's tomorrow's job, as is what someone once called "the tracery of free and shareware programs that constantly run in the background".
</Technospeak>
Dinner was a bit of a mishmash. My steak pie was overcooked because I forgot that the Le Creuset pot holds the heat and therefore keeps cooking long after the heat has been turned off. Still it was edible and we had a civilised dinner sitting at the table as befits a New Year's Day dinner. Scamp's salmon seemed to fair much better than my stew. We had a bottle of Prosecco courtesy of Clive back in September, and it was one of the best bottles of prosecco I've had.
Tomorrow we may go out somewhere for a walk or a look in the shops. It all depends on the weather. As usual.