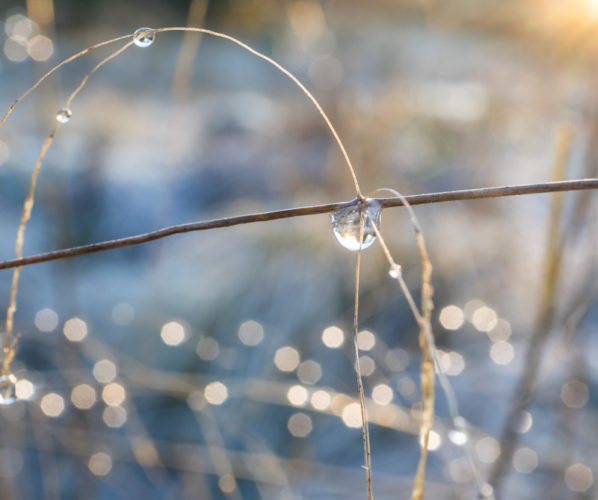 And a new one about to begin.
Scamp was a bit better this morning which was a relief. She's so rarely ill and it takes a lot to floor her, but she said she felt better. Not really well enough to get up and make breakfast, but I've got a tally of the number of days she's been shirking.
It looked cold outside and the temperature was still below zero, so we weren't in any sort of rush to go out. I did eventually go and bring the car down from where I'd parked it last night and we replaced the de-humidifier which now weighed about 400g more than when we'd put it in. That's 400ml of water its absorbed over about six months. Actually it's more than that. We've already removed about 200ml by heating it up on a radiator. I think the bag contains salt and clay. The salt being hygroscopic draws in the moisture and the clay prevents it from going back out again. Still, it works well in the wee Nissan. Mine has AC and that pumps out dry air summer and winter, so that dries the windscreen, but what is it about Japanese cars that makes them so susceptible to condensation?
We still needed some stuff for dinner tonight, so we walked down to the shops. Glad we did, because the road was just a carpark. Cars, buses and lorries all getting in each other's way. It was traffic chaos. We found out why when we went in to M&S Food. People everywhere, probably all the ones who were causing all the road chaos. All madly grabbing things, any things, because haven't you heard? The shops are all shut tomorrow!! Now these shops weren't even there a few months ago and nobody died of starvation. Still we have to stockpile just in case they decide to shut the shops for two days. We got enough to make dinner. We didn't need any more.
Walked back home and had lunch then went out to St Mo's to take the last photos of 2019, the last photos of this 365 and the last photos of the decade. It was a lovely day. Good light again and a wee bit of frost too, just to add some sparkle. PoD was a picture of a curved grass stem with a water bead caught in a leaf joint.
Came home to find that Scamp was feeling a lot better and was making cakes for tonight. I set to and made the stew to fill tomorrow's steak pie. A couple of weeks ago I made the prototype, this is the real deal. After that I got two of the apps I use a lot on the Mac installed, but one, the main one, Lightroom is installed, but not registered yet. I'm hoping the new year will bring me a brainwave and I'll get it done. If not, there are always other ways round things, if you know what I mean.
That's about it. I think we're ready to face 2020 now the place has been hoovered, the toilet has been cleaned, the bathroom has too. I think we're ready.
All The Best to all my readers. I hope 2020 is good to you whoever and wherever you are.
Tomorrow? Probably a late start after a late night tonight. Drink will be taken, I'm sure (it already has been!).