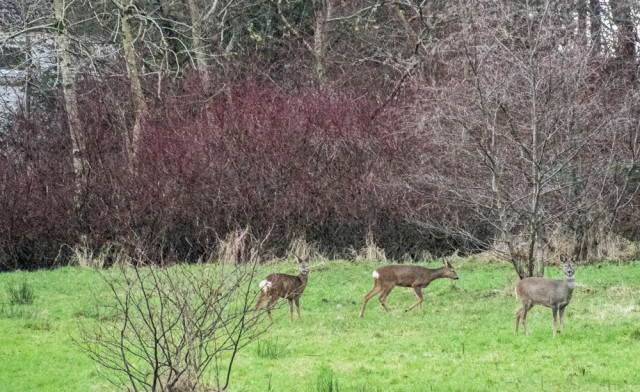 The traditional greeting for the first day of the month.  It's meant to bring you good luck or something.  Let's hope it breaks the seemingly endless chain of storms that are sweeping Scotland.  Today it was Storm Henry's turn to wreak devastation.  Henry is quite a noisy and blustery storm, he's still rumbling around outside as I write this and will be there tomorrow to catch the unwary so we are told.  Some businesses in Glasgow let their workers go home early because of him.  They probably had their hours cut though.  Charity stops at the office.
Didn't see any rabbits today, white, brown or striped red and yellow.  I did see three deer though.  The were feeding in a public park near the path to Condorrat, right next to a swing park.  They saw me, but pretended they didn't and seemed quite unconcerned.  I could almost hear them saying "Oh, it's just another old codger taking photos.  Ignore him and he'll go away after he's got his shots."  So I did get the shots and they did ignore me and I went away.
"Gems" had invaded the house by the time I got back so I took the car out for a run and tried for some photos down by the Luggie, but there was nothing stirring and it was getting really dull so I headed home with an empty SD card.
Went to the Bachata class again tonight and although it was the fat bloke, he was much, much better than last week's wannabe.  "Junior Instructor my sharny arse" as DCI Steel would say in the latest Stuart MacBride book.  Books are a real pain.  Did you know the pages don't light up?  You have to physically turn the pages too.  The pages don't turn when you touch the right hand side of them.  How old-school is that?  If you want  to look up a word you have to use a special app called a Dictionary you can't just 'long press' the word.  Worse still, the Dictionary app is a book too.  I think there's a conspiracy here by the book makers who are trying to get you to but even more books.  It won't work though.  There will always be a place for a Kindle.