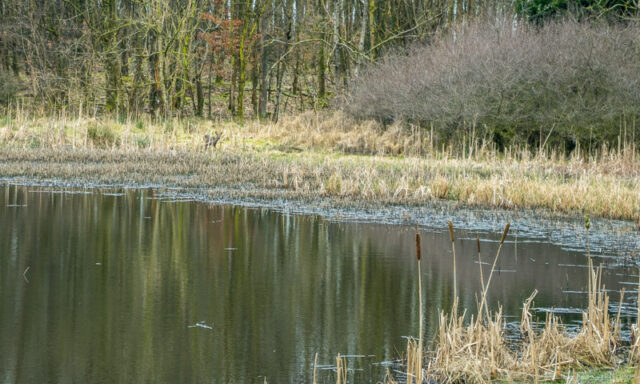 Different woods.
It being a beautiful morning, Scamp was raring to go out … somewhere … anywhere. By the time we did get out the sun had disappeared and the clouds were sliding in. Those same milky white clouds that have dogged us all week. We walked down to Broadwood Loch and followed the path clockwise, which like yesterday was against the natural flow of people on the Broadwood Bravelator. Again we took the first available exit and walked through the woods where we found a single deer, a hind, grazing beside Orchardton Pond. It stood for a few minutes inspecting us before it returned to its grazing. It was not in the least fazed by these humans pointing things at it. I suppose it must get used to the people walking along this path. I'm sure it wouldn't be so happy being next to the Broadwood Travelator.
We left the deer to its breakfast and walked deeper into the woods following a winding path between the trees which eventually brought us back to the main path where we continued to walk against the flow until we were back on familiar ground along the 'exercise machines' path and from there back up the hills to home. My back was aching carrying one small and one big camera. I really have to be more sensible about these things. One camera is enough with a couple of lenses, but not the great weight of the 105mm macro or the old 70-300mm tele. A walk is no fun when you're carrying a heavy load. Anyway, I'd pointed a piece of glass at a deer and got a few shots, one of which I was certain would make a decent PoD. As it was, there were quite a few decent shots, but I settled on this shot of the deer hind as my PoD.
Exercise over for the day, I settled down to finish yesterday's Sudoku and then to select eight photos to send with my bi-monthly (that is every second month, not twice a month) email to my brother. Actually I was running a bit late this time as 'Every Day in February' had stolen away so much time. That took most of the remaining afternoon and is in fact, just posted!
Dinner tonight was courtesy of Bombay Dreams which is soldiering on as a delivery service. Quite the best Indian food in Cumbersheugh by a long way and enormous portions. Also the hottest Rogan Josh I've had anywhere and the squeakiest Paneer that Scamp has eaten. Half of it was consumed tonight and the remainder we'll keep until tomorrow, possibly for dinner tomorrow night.
A gentle dance practise tonight just to make sure we (for 'we' read 'I') remember it for tomorrow's lesson. I got both the rumba and the waltz correct … second time around. That was quite good for me. We were both happy with it.
Tomorrow looks like rain. I doubt if a walk will be on the cards, but you never know.