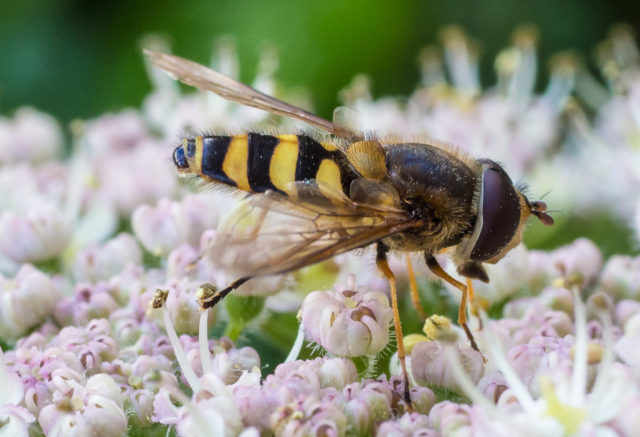 Some days centre around food. This one centred around dancing.
Today was the day of the Salsa Summer Ball. We missed it last year because we were on our way back from our cruise. This year we were determined to go. Before that there were photos to take.
Went for a walk in St Mo's in the afternoon with the Oly 10 and a macro lens. Despite the sunshine and probably because of the gusty wind there weren't many insects posing for their close-ups. I did grab a few shots of a hoverfly, Eupeodes corollae feeding on a cow parsley head. Tried a few shots with the on-camera flash with some success.
After the photos were in the computer, it was time to get ready for the dancin'. Drove down to the Record Factory in Byres Road and couldn't find a space anywhere. Finally got one a couple of streets over. By the time we got to the place, the ball was in full swing. Danced all night from about 7pm until just after 10pm, almost non-stop. Great fun apart from Alex and Valeria's show off LA Salsa routine which apparently was fantastic, but not being a fan, I didn't think so. Worse was a Balkans (or was that Falklands) dance presented and taught by Samira. Not my favourite person either. It looked like all peasant dances, boring. Maybe you had to have come from the Balkans (or the Falklands) to appreciate what finer points there were in it.
Scamp and I did a bit of a tutorial of our own with a Polish(?) couple. The bloke was flummoxed by Dile Que No. After a few demonstrations and a bit of leading from Scamp, I think he got it.
Scamp really got into the swing of things by getting her arm painted. I did actually think of getting my face painted, but held off from that extravagance.
Arrived home around 11pm and watched an interesting Austrian GP were Verstappen managed to just steal a win from the new Ferrari wonder boy Leclerc. After that, totally exhausted we went to bed.
Tomorrow a lazy day with hopefully some dancing at night to ease the aches in our legs and backs.
Of course this is written as a catch-up!