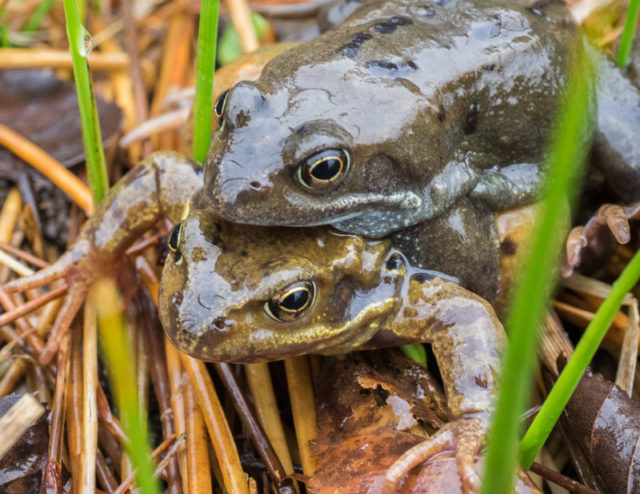 A whole day without a phone call from the doctor! What's wrong, have I offended someone?
It was another horrible day. Wind and rain in varying amounts and intensities. Didn't do much and didn't go very far. What we did do was practise the Foxtrot and the Waltz 'figures' just in case we want to dance them tomorrow. Actually I'd gone for a walk in the afternoon and found a piece of open ground in the middle of the trees and there I had a short solo practise of the figures in the Foxtrot, because that's the dance we know the least about. I must have looked what my mum would have called 'a proper chookie' (a fool) if anyone had caught a glimpse of me dancing through the trees!
It was when I was coming back from my outdoor dance class that I saw two frogs in an amorous embrace attempting to get out of a fast flowing burn that had appeared overnight. The lady frog was trying to climb up a crumbling banking without much success, so I lifted them both out of the burn and placed them on the grass, took their photo and then put them down in a more gently sloping sandbank to allow them the opportunity to continue on to dry land or reenter the stream. I thought as I was walking away that it must be the first time I've handled a frog since I was a wee boy. One of the photos I took was sharp enough to become PoD. Zog meets a Frog.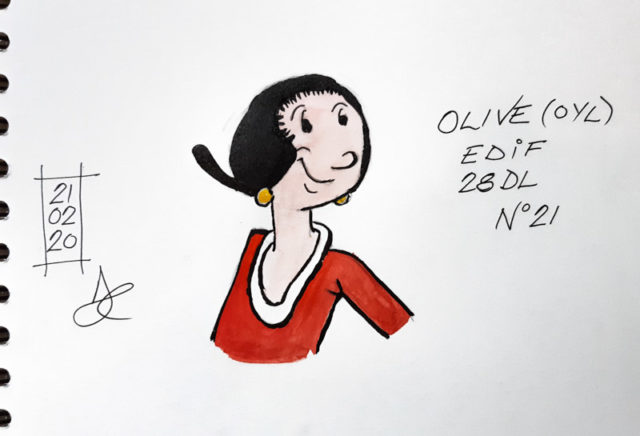 Today's topic was 'Olive'. I tried all sorts of still life setups with black olives and also the green variety. None of them appealed to me, then I thought of the most famous Olive of all, Ms Oyl. I also wanted a fairly easy drawing after yesterday's complicated crown.
Tomorrow's task is 'Rain'. I think I might be able to construct something around that theme, considering we've hardly had one dry day since Christmas. Only other plans for tomorrow are to go out for lunch somewhere if we don't get blown or washed away.